Date: 27-29 July, 2022
Location: Kuala Lumpur, Malaysia
–
Watch the highlight video here
Read our press statement on the event here (English) and here (Chinese).
Preamble
For the first time since the end of the Cold War, the world order marked by American dominance in international affairs has been shaken to its core. Against the backdrop of the recent Russian invasion of Ukraine as well as the growing rivalry between the US and China, the global geopolitical landscape is becoming increasingly multipolar. As great powers flex their military and economic might across their spheres of influence; war, including nuclear escalation, is back on the menu.
Southeast Asia is not immune to these geopolitical developments. Indeed, amid rising global anxieties, the region is emerging as an area ripe with opportunity and rife with risk. These range from a largely favourable investment climate on the one hand to flashpoints such as the South China Sea dispute on the other hand. US-China tensions are also likely to flare up time and again in the region as part of the ebb and flow of such flashpoints.
In the coming years, ASEAN nations will need to make some tough, strategic decisions in order to manage and exploit the US-China rivalry. If they stand back, ASEAN may be reduced to being a pawn on the geopolitical chessboard. However, if they play their cards right, the region could benefit from global tensions and serve as a bridge between east and west.
To discuss Southeast Asia's challenges and identify the region's best strategies to stay ahead, Research for Social Advancement (REFSA), a progressive think tank based in Kuala Lumpur, with the support from Friedrich Ebert Stiftung (FES) Asia, convened a diverse group of policymakers, academics and thought leaders from across Asia-Pacific for a two-day roundtable in the Malaysian capital. Through the lens of the global order of today and tomorrow, the dialogue facilitated discussions around the implications of the US-China rivalry for ASEAN, regional tensions in the South China Sea and the way forward to manage disruption.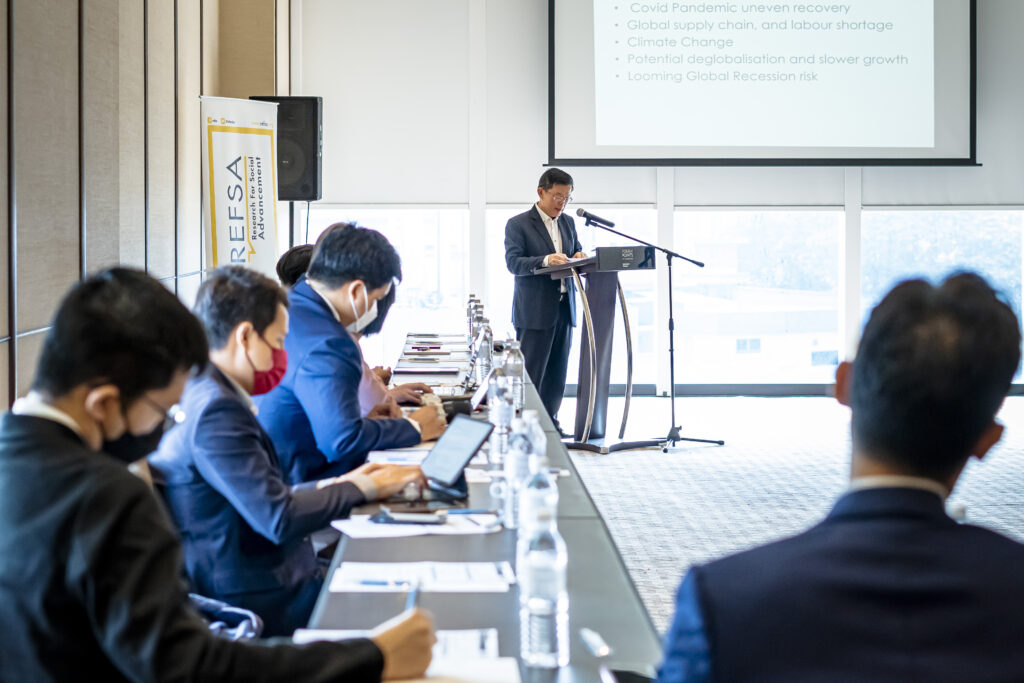 Current state of play
General geopolitics
The sessions began with a discussion of the current dynamics of regional and global geopolitics. Participants highlighted the seminal nature of the Russia-Ukraine conflict in precipitating the demise of the old US-centric world order since the fall of the Berlin Wall in 1989. The early 2020s were singled out as the end of the 'age of innocence'. Although tensions had by no means disappeared from the 1990s through to the 2010s, the possibility of nuclear warfare had been distant until this year.
Many believe that the main cause of friction can be traced to the way in which new norms challenge the current world order. In this regard, recent disruptions, such as the Covid-19 pandemic and rising inflationary pressure following the war in Ukraine, highlight the growing vulnerability of societies the world over to international issues. The existing ASEAN doctrine of noninterference and bamboo diplomacy is in danger of losing relevance as both external and internal problems threaten to spill over beyond national borders.
ASEAN
On the subject of ASEAN, the debate turned to the role of the association. Some participants criticised the organisation for failing to resolve territorial disputes and being too silent in the face of crises involving member states, including the humanitarian situation in Myanmar. There was widespread agreement that ASEAN is imperfect. However, others came to ASEAN's defence, arguing that for all its flaws, it remained indispensable as one of several avenues for regional diplomacy. In particular, ASEAN has introduced or played a central role in a number of mechanisms to engage foreign powers, including ASEAN Plus Three and the East Asia Summit.
Ultimately, ASEAN finds itself at a crossroads amid the growing complexity of the multipolar world and it needs to reinvent itself and come up with new strategies to manage its relationship with foreign powers.
China
It is impossible to talk about Southeast Asia without discussing its giant neighbour China. To this end, participants drew attention to the fact that China is not a monolith. Instead, the country was described as a 'work in progress' with its own contradictions that run contrary to its standard depiction as a strategic, consistent and persistently cunning polity.
The Belt and Road Initiative (BRI) was cited as an example of China's fairly politically neutral role in infrastructure investment. Participants emphasised that BRI projects for the most part do not constitute debt trap diplomacy, even in the case of Sri Lanka, where Chinese credit played only a minor role at best in the former's economic collapse on the back of more debilitating structural problems. In addition, for countries like Malaysia, the projects were largely initiated by the recipient governments themselves rather than Beijing. At the same time, BRI is not a charity, so it is incumbent upon Southeast Asian countries to negotiate well, such as Thailand's treatment of BRI rail projects as a co-partnership.
Participants also mentioned the internal problems that China is currently facing, such as its ageing demographics, imploding real estate and loss of competitiveness due to its zero-Covid policy. Accordingly, these issues provide a window of opportunity for Southeast Asia to react and gain.
Economics
Crisis breeds opportunity, and nowhere is this more evident for today's Southeast Asia than on the economic front. As mentioned, China's frequent lockdowns, along with the US-China rivalry more broadly, have increased investors' appetite for alternative destinations for FDI. And the core Southeast Asian nations are first in line to benefit: the region is witnessing rising FDI inflows, especially from the US, Europe and Japan among others.
With a stable investment climate, a track record in sectors such as electrical and electronic products (E&E) and a willingness to participate in multilateral trade agreements like the Regional Comprehensive Economic Partnership (RCEP), countries like Indonesia, Malaysia, Thailand and Vietnam are emerging as desirable, competitive alternatives for international trade and FDI. Whether Southeast Asia is able to leverage this potential and strategic position is a crucial question, with subsequent sessions discussing how this could be done.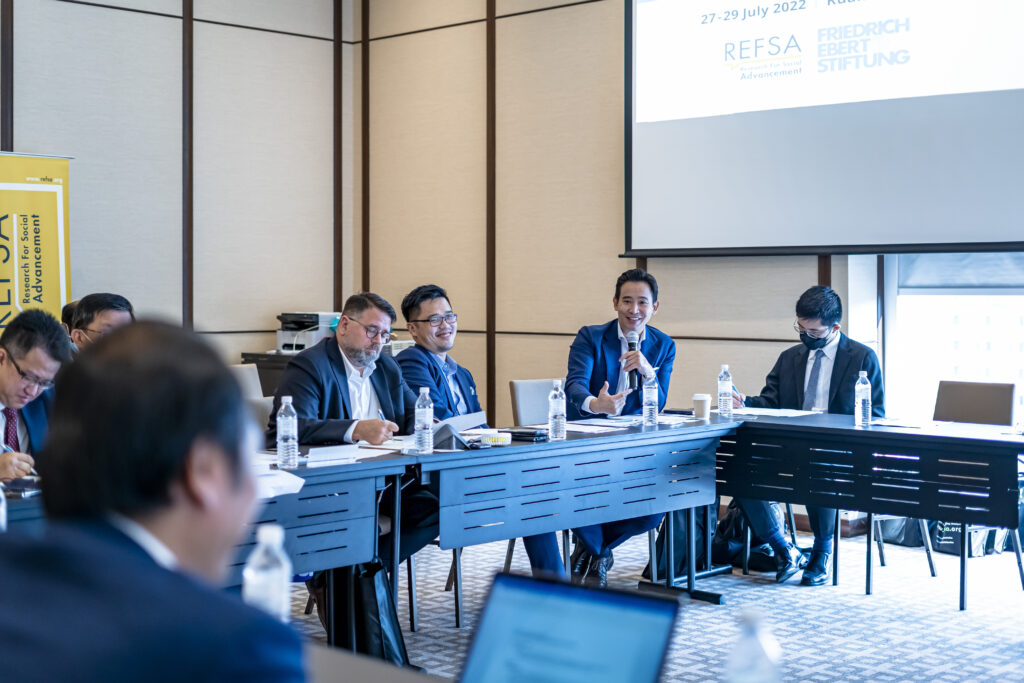 Emerging trends
General geopolitics
The sessions continued with a series of open questions on the immediate geopolitical risks in Asia-Pacific, particularly until 2030. The unifying narrative is that in line with the end of the unipolar world order, the next decade will be a period of uncertainty, and by extension, potential instability.
According to discussions, China is not seen as the biggest threat to world peace: participants noted that China's dominant political project has instead been to make Chinese people rich. Therefore, a direct war with China may not happen by design, and in any case, China's war technology is at least a generation behind that of the US.
Though participants were broadly of the opinion that China is less belligerent than Vladimir Putin's Russia on the global stage, the possibility of accidents causing war in the coming years was pointed out. Moreover, should China take the lead in quantum technology, cyberwarfare could be likely, but it would take the country at least a few decades to master such technology.
As the US-China rivalry deepens, however, another cold war could happen, which may be fought by proxy in zones with competing spheres of influence, such as Hong Kong. In addition, a confrontation between the great powers over Taiwan cannot be excluded entirely.
With high uncertainty, participants explained that there would not necessarily be consistency in the behaviour of states until 2030, making it more difficult for ASEAN to draw patterns and avoid accidents. As much as this situation favours the great powers as decision makers, Southeast Asian countries as takers will have the opportunity to play both sides to their advantage.
ASEAN
An important trend that has emerged in the region is the notion of an ASEAN identity. Increased access to diplomatic efforts due to broader and faster media coverage, along with the rise of the internet as an international public good, has led to the rise of a shared Southeast Asian identity that often transcends state borders. These factors have given rise to a more open and democratic approach to diplomacy, where the traditional ASEAN tenet of non-interference is viewed more as an excuse for inaction than a fundamental principle of the association.
A popular example is seen in the rise of juntas in Myanmar and Thailand, and the way popular sentiment in other ASEAN countries tends towards intervention rather than leaving these states to sink or swim on their own. A popular line of reasoning behind these preferences is the risk of "lost generations", especially in terms of Myanmarese education, which is bound to have profound spillover effects on the economies and politics of neighbouring countries.
While ASEAN started out as merely a geographical construct, it has evolved into a very important geopolitical bloc during the great power rivalry between the US and China. While it is far from perfect, scholars and defence policymakers see it as a fulcrum in an increasingly delicate balancing act. As such, ASEAN has the most to gain from the ongoing great power rivalry, but also stands to lose the most if it plays its hand poorly.
Economics
The next decade could see a rise in nearshoring, in which investment moves closer – geographically or geopolitically speaking – to the home country rather than being based solely on economic incentives. Accordingly, geoeconomics is returning to the world of trade: economic relations will be increasingly intertwined with geopolitical ties, and allegiances could be rewarded with preferential trade agreements.
ASEAN will play a crucial role in not only navigating the great power rivalry but also building new relationships in this regard. For one, recently the bloc has demonstrated success as a bridge between the Northeast Asian economies: RCEP, through the involvement of ASEAN, marks the first free trade agreement bringing China, Japan and South Korea together. Simultaneously, most Southeast Asian countries are part of the proposed US-led Indo-Pacific Economic Framework (IPEF). The web of economic ties between Southeast Asian countries and their extra regional partners, chiefly the US on the one hand and China on the other, will continue to grow.
Participants argued that this geoeconomic complexity would provide more leverage for ASEAN to carve out a middle ground between competing global interests. While previously the region may have seemed irrelevant because of China's size and influence, now Southeast Asia can act as a moderating player. In addition to the existing strengths of countries like Indonesia and Vietnam in labour-intensive manufacturing by virtue of their population size, the region's economic potential is growing due to greater focus on skills development and value addition. Technology and automation play a key role in this transformation, which has seen the emergence of several unicorn companies in the area in recent years to give an example.
Flashpoint: the South China Sea disputes
An entire session was devoted to the protracted South China Sea disputes as a flashpoint in Southeast Asia. Though the region is broadly stable, in the coming years this flashpoint could threaten to snowball, especially in the event of accidents as previously highlighted.
The South China Sea disputes have become of increasing importance over the last 30 years, and members of the conference have suggested that if there were to be an "incident" that would lead to a war involving China, that it is more likely to take place in the South China Sea than in the Taiwan Strait. This seems even more prescient in light of the issues of the unilateral "fishing bans" in the South China Sea imposed on the Philippines by Chinese authorities and subsequent harassment of fishing vessels by the Chinese coast guard, as well as the six-month-long standoff between China and Malaysia over rights to "freedom of navigation" in the South China Sea.
While fisheries restoration is generally a good thing, unilateral action is generally frowned upon under the current consensus-based world order. Similarly, standoffs in the South China Sea increase the number of moving parts in China-ASEAN diplomacy and make state behaviour unpredictable. These greatly increase the risk of conflict due to miscommunication or accident. Instead of allowing China to badger individual ASEAN states into aggressive action or blind compliance, ASEAN should consider this an avenue to engage constructively with China.
In the light of these issues, the need for a Code of Conduct (CoC) for parties to the South China Sea dispute is clear. While ASEAN's best interest would be that this CoC be a binding agreement under international law, China has a vested interest in the CoC acting more as a list of "suggestions".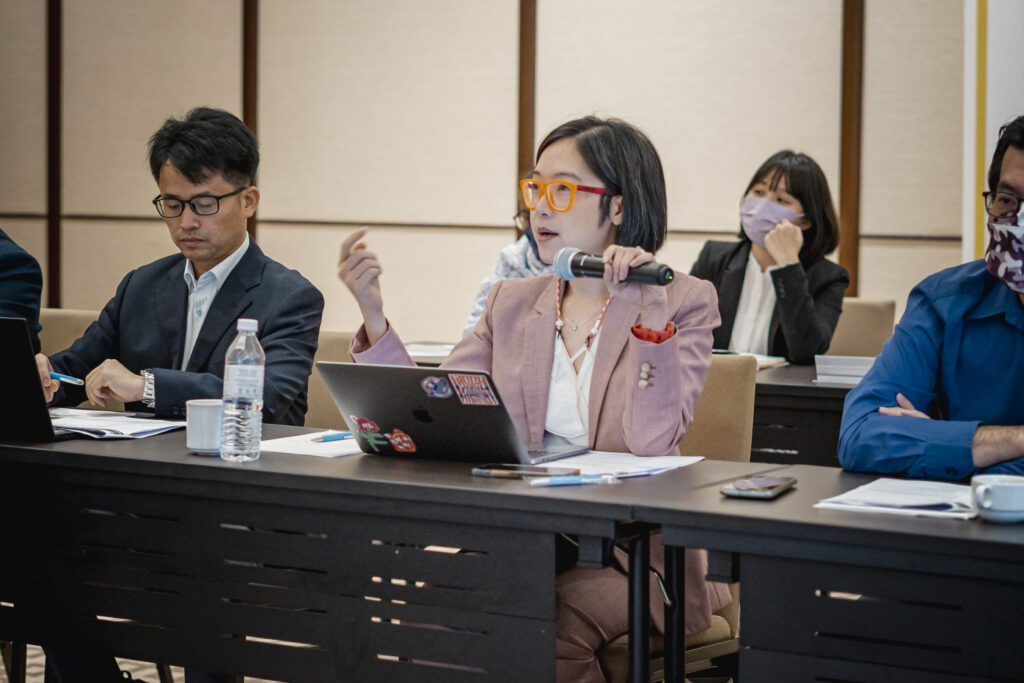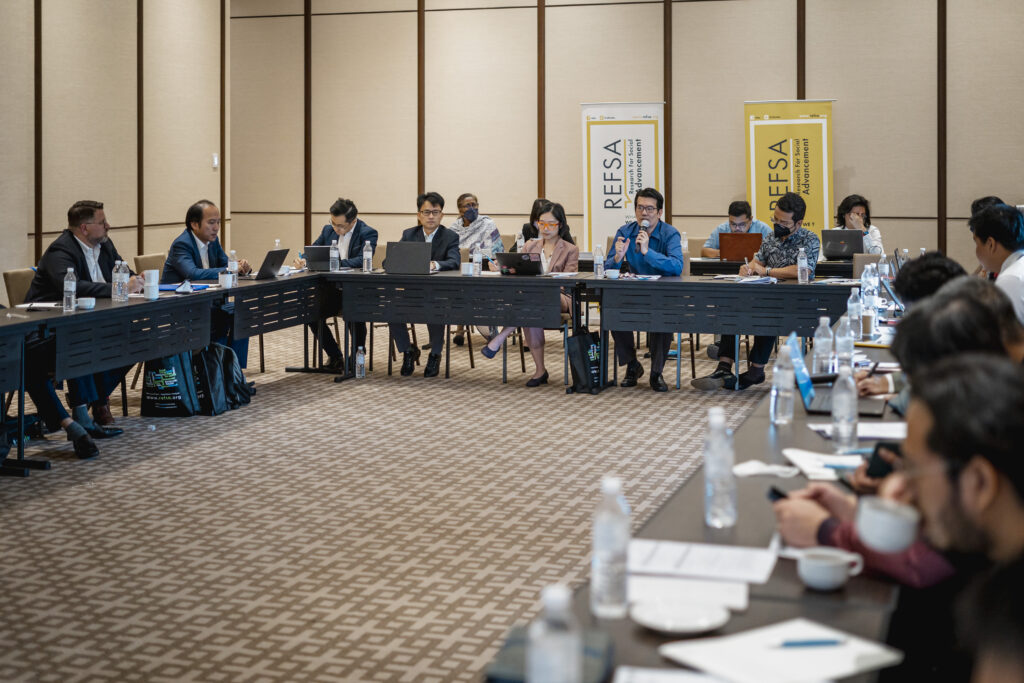 Strategy and policy recommendations
General geopolitics
Over the two days, participants consistently emphasised the need for ASEAN to be strategic and active in managing its foreign relations. Instead of a pawn in a chess game, geopolitics was described as a poker game, in which the ASEAN countries could have an upper hand.
The discussions led to three key policy considerations as summarised below.
An independent foreign policy
Southeast Asian states should gear their foreign policy towards gaining resilience in economic development, defence and other areas in an effort to develop strategic autonomy.
There is a need to avoid falling into the binary trap of picking sides between the US and China. What this implies is that Southeast Asia should maintain a healthy distance from the great powers.
While welcoming American activity, the region needs to tread carefully so that China does not take out its anxiety on Southeast Asia as the smaller partner. In fact, in the past, by distancing itself from the US, Southeast Asia has helped de-escalate tensions in the South China Sea. In other words, Southeast Asian states' individual troubles with China need to be disentangled from the great power rivalry.
Further, ASEAN should have the political will to address internal issues, such as the instability in Myanmar, and build trust among member states to emerge as a united bloc. To achieve this, ASEAN states should consider increasing ratification rates of international treaties, particularly those concerning human rights, and become a more central part of the existing rules-based order.
À la carte diplomacy
In line with moving away from one-size-fits-all binary choices, ASEAN states should continue engaging in multi-layered and multi-aligned diplomacy that is inclusive, impartial and integrative. Instead of overcommitting to any given side, they should forge ties in a way that furthers ASEAN interests. To achieve this, countries should have multiple strategies in their toolbox as a way of resolving conflicts, ranging from bilateralism, regionalism, minilateralism (such as ASEAN- arrangements involving core countries of interest on given issues) and multilateralism (including multilateral arrangements with stakeholders outside the region), and hedging their bets with regard to the current great power rivalry for as long as possible.
À la carte diplomacy requires a mindset shift on the part of Southeast Asian states. Beyond simply rejecting the notion of picking sides between the US and China, ASEAN needs to stop conceptualising geopolitics as a battle between western and Asian values.
Instead, the right approach should entail attracting enough investment from larger countries such as the US and China so that acts of aggression become counterproductive to their broader strategic plans. With regard to China specifically, countries should recognise it as a multifaceted nation with its own internal logic rather than resorting to a stereotypical description of the power as a neo-totalitarian state and risking a self-fulfilling prophecy where China can no longer be engaged constructively.
Leveraging
Southeast Asia lies at the economic crossroads between China and the US. The region is already beginning to leverage its strategic position by entering into deeper economic partnerships with the great powers, including the US via IPEF and China via RCEP.
Moving forward, however, there is potential for ASEAN states to coordinate further, not only to promote more intra-ASEAN trade on the back of stronger regional value chains but also to strengthen ASEAN's position as a trading bloc with bargaining power on the global stage.
Put simply, Southeast Asian countries should view one another as complements rather than simply competitors for trade and investment. In sectors such as E&E and solar manufacturing, ASEAN's combined output gives it the ability to negotiate more favourable terms. A recent example of this strength in action is Joe Biden's decision to waive tariffs on imported solar panels from Cambodia, Malaysia, Thailand and Vietnam, which constitute 80% of US imports of the product, due to their importance to the American renewable energy industry.
As a collective, ASEAN states therefore have agency to negotiate more targeted free trade agreements, whether bilaterally, multilaterally or through the machinery of the World Trade Organization, that address key matters of contention in Asia-Pacific trade, such as non-tariff barriers as well as insufficiently integrated small and medium enterprises.
Finally, whether in foreign policy, defence or economics, Southeast Asia should stress its autonomy from either side of the rivalry, instead emphasising its role as a mediator and non-aligned region.
–
Watch the highlight video here
Read our press statement on the event here (English) and here (Chinese).