Comprehensive strategy to save lives and livelihoods needed now more than ever, given the failure of FMCO and NRP to manage crisis.
Click here for brief summary in infographics
Since February 2020, the government has announced nine stimulus packages, totalling RM530 billion to assist Malaysians in surviving the pandemic. During this time, numerous iterations of lockdowns, particularly on "non-essential" sectors have caused a significant decline in household income and business profitability. The situation was further compounded by the failure of the National Recovery Plan (NRP) to save lives and livelihoods and the government's mishandling of the pandemic, leading to Malaysia's current economic recession and burgeoning rise in cases. 
Rather than following misguided blanket lockdowns, REFSA proposed key approaches to reopen our sectors safely and responsibly in #ProjekMuhibah Strategy 2 and highlighted the importance of controlling the spread of virus with the FTTIS+V framework in Strategy 1. In the paper, we argue that government assistance is crucial to support struggling Malaysians, aside from reopening the economy using data- and science-based SOPs.
Strategy #3
The recently-announced PEMULIH aid on June 28 2021 has a missing link on addressing the current obstacles faced by Malaysians. One of the critical features is its lack of fiscal spending that has been a main issue for other stimulus packages introduced by the government.
In light of this, we introduced a comprehensive analysis of the stimulus packages as our third strategy to understand the effectiveness of the aid. (For more in detail analysis, read the breakdown of PEMERKASA and PEMERKASA + here.)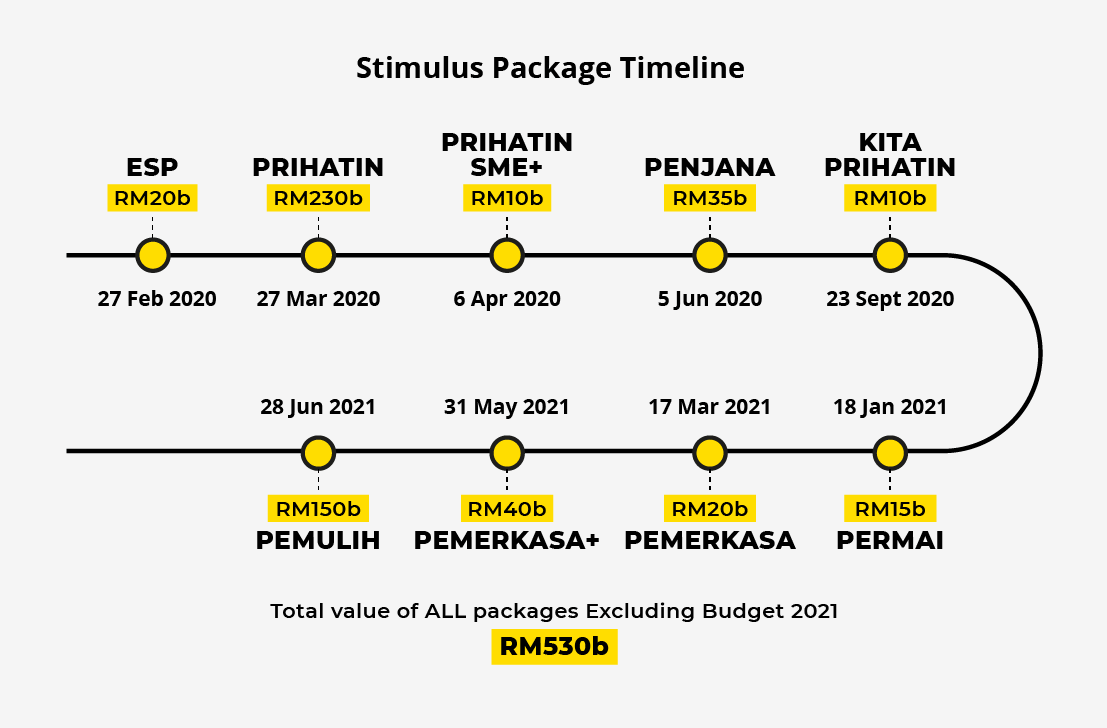 Image 1: Timeline of stimulus package
In this strategy paper, we detail the shortcomings of the packages and subsequently, our policy recommendations:
Shortcomings of the packages:
1/ Support directed at businesses, especially the hardest-hit sectors and SMEs are insufficient.
The Wage Subsidy Programme (WSP) covers only 19% of the total monthly wage bill of private companies, according to Federation of Malaysian Manufacturers (FMM). It also excludes foreign employees and gig workers. 

The PRIHATIN Special Grant (GKP) one-off payments to SMEs are likely to have been depleted given the indefinite period of lockdowns and movement restrictions. 

While loan moratoriums provide some short-term liquidity, Bank Negara Malaysia (BNM) indicated that moratorium-takers would eventually pay

higher overall costs in the long-run.

 

Although measures are conceptually effective, the scale of assistance allocated is unlikely to be transformational.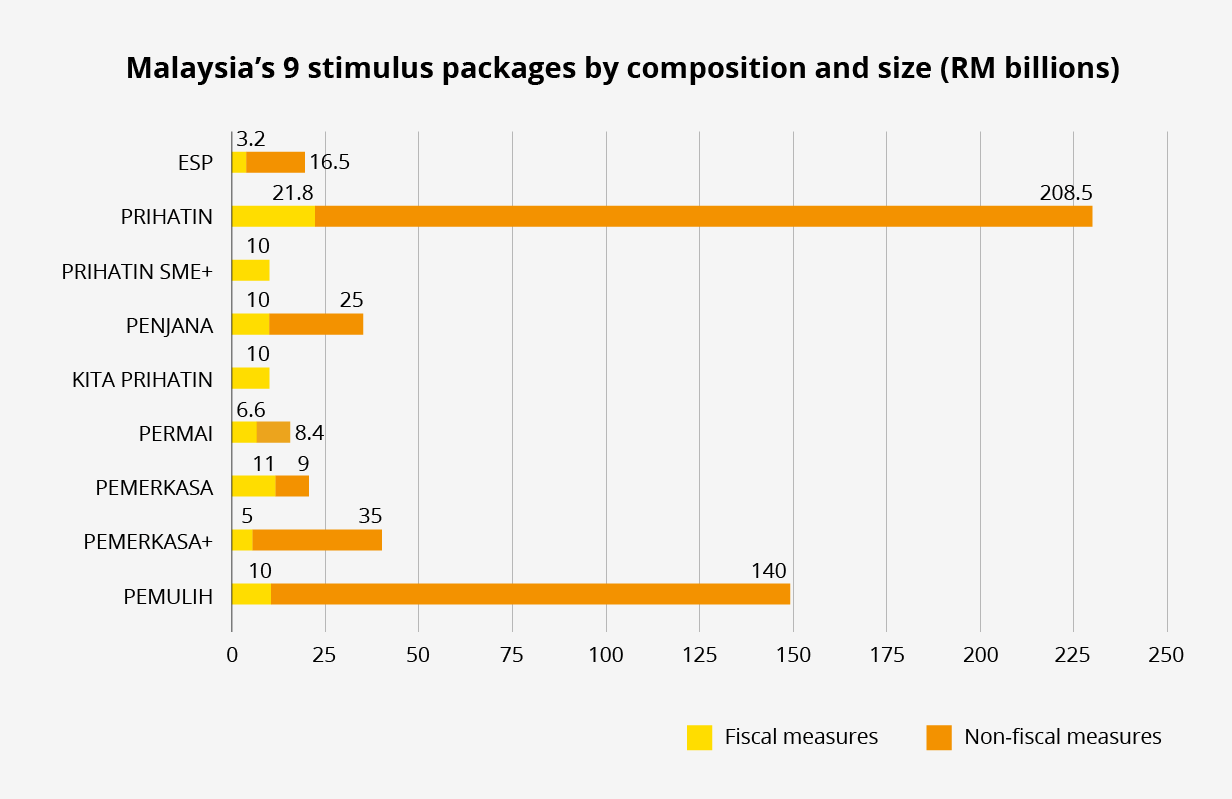 Graph 1: Malaysia's 9 stimulus packages by composition and size (RM billions)
2/ Support for individuals and households, especially for those in the informal sector, is grossly insufficient.
One-off payments of Bantuan Prihatin Nasional, Bantuan Prihatin Rakyat, and Bantuan Khas Covid-19 are helpful but likely to have been used up by now.

Employment Provident Fund (EPF) withdrawal schemes essentially diminish the people's retirement savings. Furthermore, the uptake of this program is high amongst low-income earners which will result in deeper inequalities in the future.  

The Employment Insurance Scheme (EIS) has only half of eligible employees registered due to relatively recent introduction in 2018.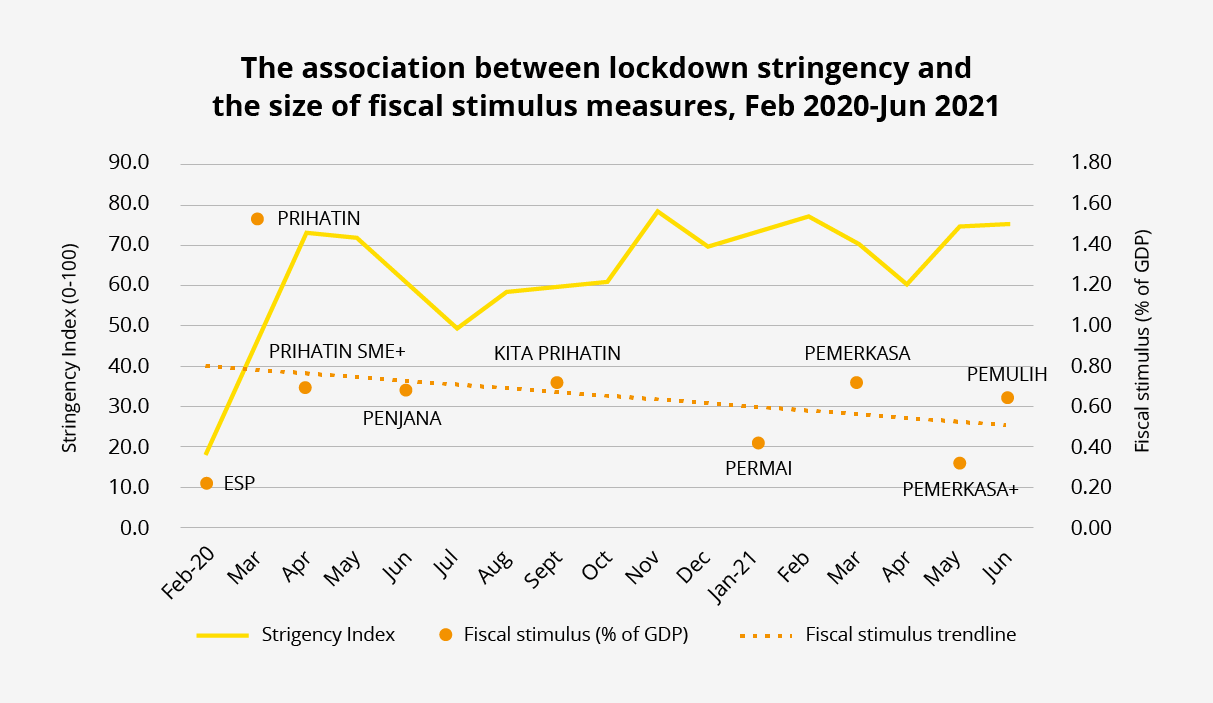 Graph 2: The association between lockdown stringency and the size of fiscal stimulus measures, Feb 2020- Jun 2021
Policy Recommendations:
1/ Raise the debt-to-GDP ceiling of 60% and interest service ratio of 15% of the total budget temporarily during the crisis.
The previously-set limits are statutory, and not derived from an economic approach. It is vital for these limits to be flexible so the government can increase deficit-financed expansionary fiscal policy. 
2/ Increase spending on direct cash injections, targeted at individuals and small business owners worst-hit by the pandemic
3/ Explore creative ways to increase government revenue equitably. Possible initiatives include :
Utilising unspent trust funds that are placed under ministries or agencies.

Imposing a windfall tax or capital gains tax that would target highly profitable firms and high-income earners, rather than burdening those who are already struggling. 
4/ Enhance social protection safety net to include all vulnerable groups, especially informal and gig workers.
In conclusion, the measures outlined by the government are largely non-fiscal. The government must be willing to spend more during crucial times like this in order to prevent a prolonged period of economic slowdown. While some initiatives are conceptually on-point, the scale of the allocation should be increased to ensure the target groups receive adequate support, as intended.
Click here for brief summary in infographics
Read press release about this strategy HERE (English), HERE (Malay) and HERE (Chinese)
About Projek Muhibah
#ProjekMuhibah introduces ten strategies to address the socio-economic challenges caused by the COVID-19 pandemic in Malaysia. Our analyses and proposals will help Malaysia build back better, towards a more resilient and equitable economy, a more economically secure workforce, and a stronger and more supportive community.