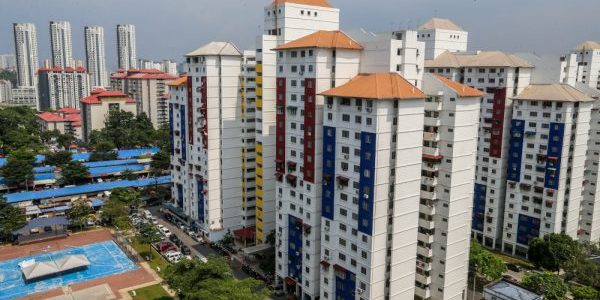 FEB 24, 2020
Thinking beyond the housing financialisation model
By Liew Chin Tong
At the invitation of Pertubuhan Akitek Malaysia president Lillian Tay and my friend and festival director Tan Loke Mun, I spoke at the Kuala Lumpur Architecture Festival, to a distinguished audience that cares about our cities and their future. The theme for this year's festival is "Beyond".
I was elected as a Member of Parliament in Bukit Bendera, Penang, in 2008, and in Kluang, Johor, in 2013, which provided me a wide range of perspectives and unique experiences about Malaysian cities in different regions. Funnily enough, most of my Penang constituents thought that I was returning to my hometown when I chose to contest in Johor while many Johoreans thought that I was originally from Penang. My parents were both from Kuala Lumpur and I was raised in Subang Jaya.
The Kuala Lumpur Architecture Festival was held at REXKL, a fantastically impressive yet tasteful rejuvenation of a public space led by famous landscape artist Ng Sek San. Incidentally, my parents met — when they were both members of a choir — just half a mile down the road from REXKL.
In the 1960s, my father, then in his twenties, shared a room with five or six other young men in one of the shophouses in Petaling Street. Each of those shophouses comprised tens of rooms partitioned by walls made of thin wood planks. I joke that such a living condition has almost zero carbon footprint.
Before World War II, when automobiles were scarce, even Pudu was considered too far from the core inner city, which is why its Chinese name means "half jungle".
Petaling Jaya was developed just shortly before Merdeka as a satellite town to Kuala Lumpur. The thinking then was that living in the suburbs is superior to living in the inner cities, which were congested, filthy and beyond repair. So, whoever who could afford a car should just move out.
Jane Jacobs' 1961 publication, The Death and Life of Great American Cities, described exactly the demise of cities due to the combined effects of automobiles and suburbanisation, which happened over the following decades in Malaysia.
Subang Jaya was developed in the 1970s and set the scene for the development of rubber/oil palm estates into housing estates. Subang Jaya was then the largest housing scheme developed by a single property developer. Town planning was done by the developer and the authorities essentially outsourced and conceded their entire planning and oversight role to the developer.
With the Dawn Raid of 1981 and the taking over of British plantation interests such as Sime Darby and Guthrie by Malaysian government-linked companies (GLCs), the pace of turning plantation estates into housing estates hastened. The appointed managers of these plantation companies could make huge windfalls for their organisations just by the conversion of land use. Around the same time, the massive growth of export-oriented industrialisation brought in huge investments and growth, which in turn resulted in a huge influx of rural-urban migration, giving rise to a further need for housing.
The 1980s also saw the development of the national car, which further entrenched Malaysia as a society highly dependent on private vehicles for mobility.
A vicious cycle of about 40 years persisted after the late 1970s. The more our cities sprawled out, the more we relied on private cars. And the further we spread the cities, the more we needed to build highways.
At the very heart of these phenomena, society assumed that everyone wished to own a car; and everyone wanted to own a landed property. But these ideas are actually very new in our consciousness. They have been in our collective consciousness for not more than 50 years. Hardly any ordinary Malaysian owned a car or a landed property outside our village setting or shophouses housing many families.
With the emergence of ride-sharing apps, there is now a growing number among the younger generation who do not wish to own a car. The same will happen if alternatives are provided in the housing realm.
It is time for us to unwind and reverse the 50-year history of the housing financialisation — when housing is treated as a commodity or vehicle for wealth creation and investment rather than meeting a social objective — in Malaysia. As it is, the economy is stuck with housing financialisation, urban sprawl and car culture. This can be seen from the fact that:
1.    Among the four biggest Malaysian banks, more than two-thirds of their loan portfolios are related to properties and cars as they are deemed "low risk" compared with more complex businesses such as new and emerging industries.
2.    Malaysian GLCs and government-linked investment companies (GLICs) are also heavily involved in the property market both directly (operationally) and as shareholders. It is time that the GLCs and GLICs rethink their roles and at least commit themselves to not being the prime movers that cause further urban sprawl via the "plantation estate to housing estate" model. They should instead set themselves as the leaders supporting the return of Malaysians to sustainable housing in inner cities, including supporting a rental housing model.
3.    The mismatch between house prices and income affordability is huge and the glut in some types of housing in certain cities is scarily big, yet many people are still not able to have decent housing. The geographical mismatch caused by the financialisation model is another problem where those who have to work in the inner city often cannot afford to stay in the area and have to spend hours commuting each day.
The past 50 years of housing financialisation in Malaysia also coincides with that in the Anglo-Saxon world, which was very well explained in a recent issue of the conservative publication The Economist. I was amazed that even The Economist is now talking about financialisation of housing as "a horrible housing blunder".
With several massive projects emerging in KL's inner city — TRX 106, PNB 118, Bukit Bintang City Centre, Bandar Malaysia and the Kampung Baru redevelopment, policymakers, GLCs and GLICs as well as leaders in the private sector would have to rethink the economic model and find one that suits the new Kuala Lumpur.
We may have to consider building rental housing for the middle-class working population. These housing units would allow them to walk, cycle or commute a short distance by public transport. Hence, there is no need to build carparks, slashing at least 30% of costs. Some of these housing units can be turned into real estate investment trusts (REITs) as long as they generate decent yields.
Old buildings in inner cities can be repopulated with minor adjustments. This will help give our buildings a new lease of life. I am a supporter of heritage conservation, but through repurposing usage, not turning all heritage buildings into museums, cafés and hotels.
Rethinking housing financialisation, urban sprawl and the car culture has to be an important and integral part of efforts to leapfrog the economy.
— THE EDGE