Mohd Hairul and his sister have been running the Suria Portrait Center in Central Market for 15 years.
Having been a thriving tourist hub in the heart of Kuala Lumpur, today the lack of commotion of the mid-pandemic Central Market is almost eerie; walking through. You're nary to see bug-eyed explorers wandering through, and once-bustling stores now replaced with lowered shutters. Its artist alley is no different, the open air street only permeated by the buzzing of outdoor fans and distant hits from a classical radio channel. Despite this, the parallel rows of shop owners continue to work diligently upon the canvas before them, with little able to distract them from their craft.
Among these shop owners are Mohd Hairul and his sister.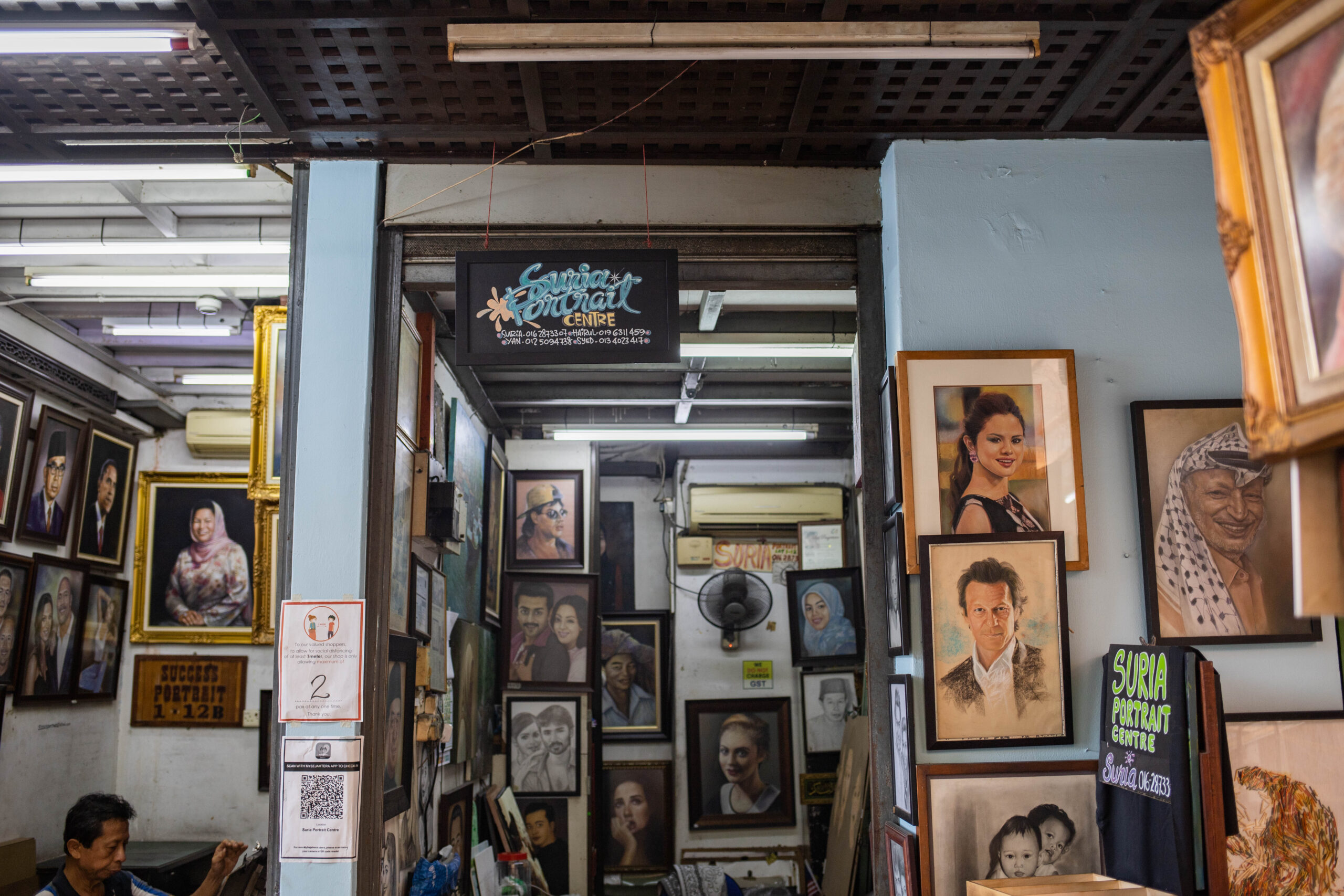 15 years of self-honed craft shared between the two siblings.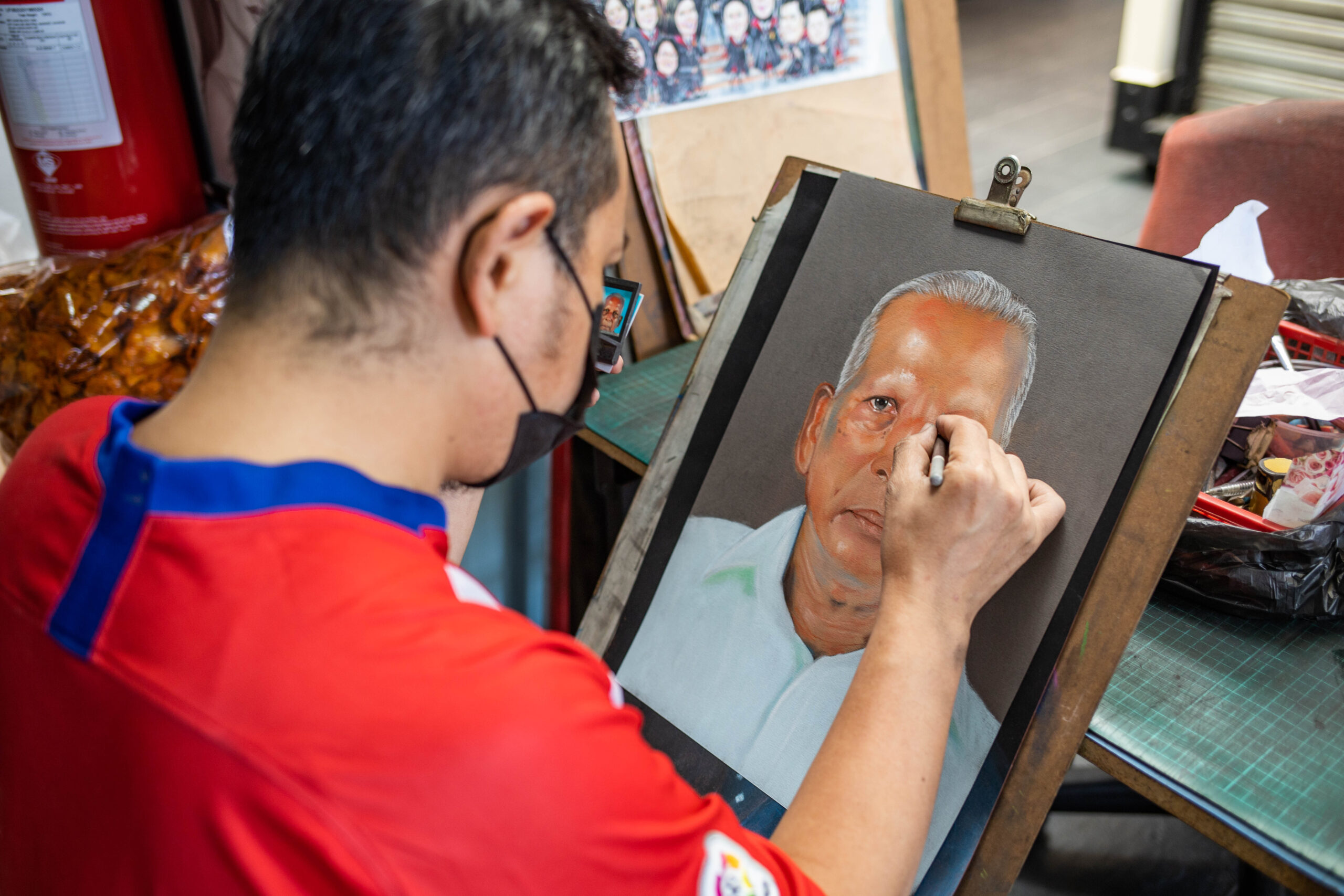 Mohd Hairul, gracing us with his skills.
He and his sister, who Mohd Hairul affectionately calls his boss, have been situated here for 15 years. They're completely self-taught, something the average joe may not discern from the impressive array of portraits piling up from floor to ceiling. Each of them is a glimpse into the lives that had visited this humble shop lot, a gallery of patrons from all walks of life. 
Business was clearly booming, once upon a time; the pandemic has not been kind to their craft, however, perhaps even less so due to their place in the art and tourism industry. "Now with the economy not being stimulated…everyone's trying to save money. Art isn't considered a necessity, after all, only a luxury," says Mohd Hairul, speaking in Malay.
Like many others, they were forced to close shop during the initial implementation of the very first lockdown. Their income inevitably saw a significant loss. Having gotten engaged during the pandemic, even Mohd Hairul's marriage had to be postponed, much to his disappointment.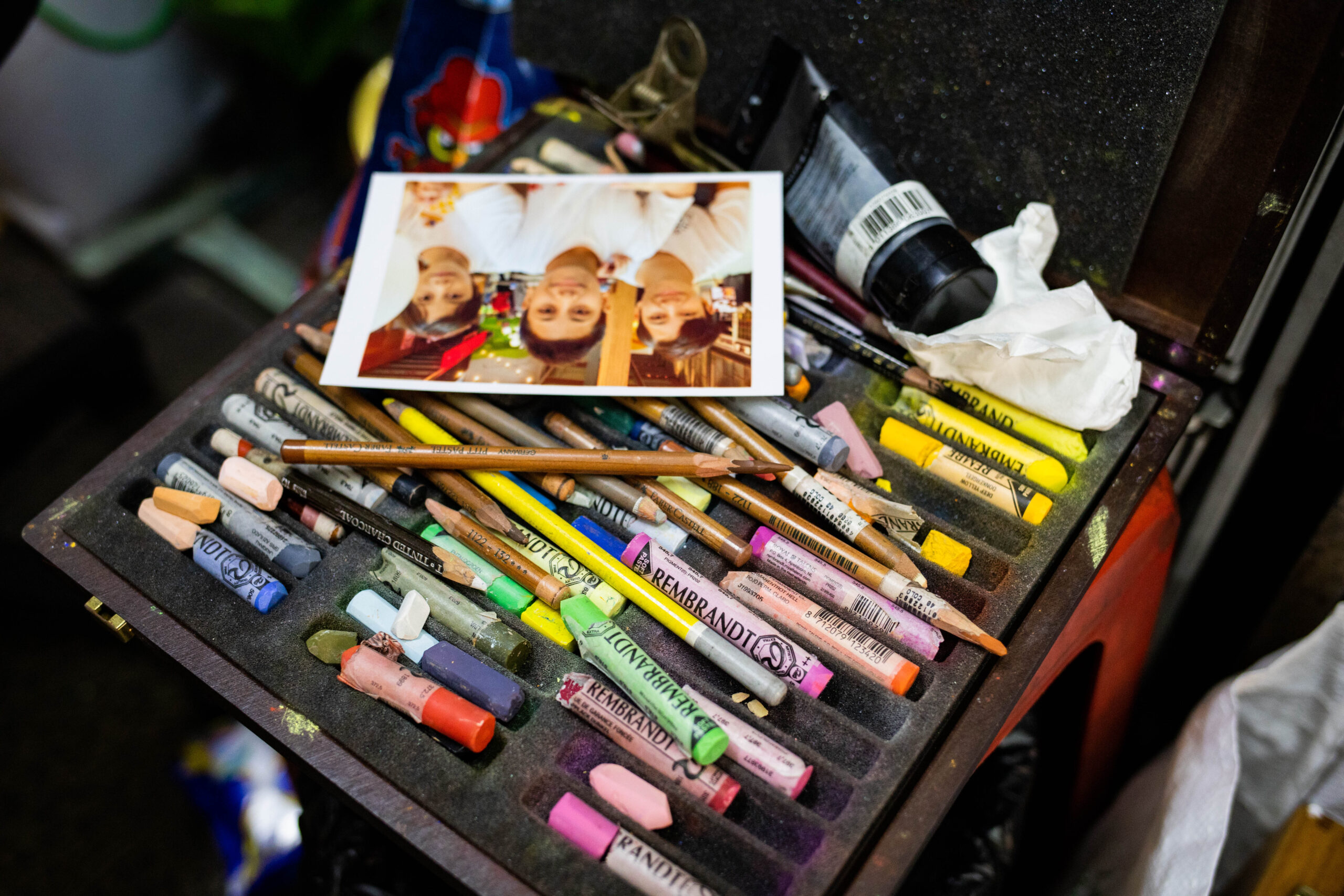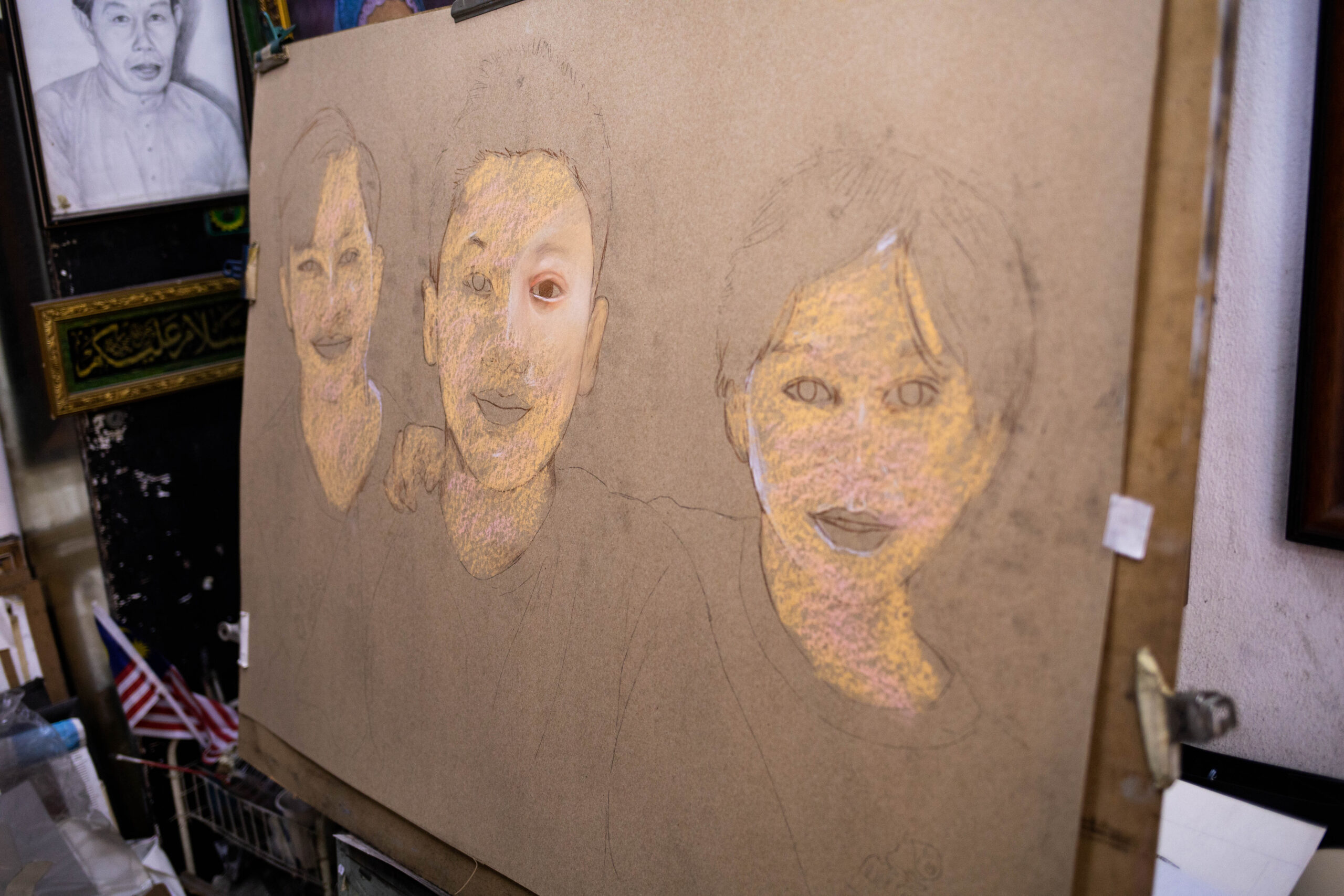 One of the many works-in-progress in their small art studio.
When asked how he could be helped, Mohd Hairul doesn't hesitate to answer – cash assistance. To date, he has applied for i-Sinar, a scheme that allows Malaysians to withdraw part of their own retirement savings to weather the pandemic; but it has been neither sufficient nor effective enough to sustain them. 
Even then, he says, it is "Yang duit i-Sinar tu pun duit kita juga…bukannya duit kerajaan" (i-Sinar comes from our own cash reserves, not the government). 
Not only does he place his hope in the government to provide consistent cash transfers for people in need, but also to promote the art industry as a whole; an area that has been largely overlooked in the thick of the pandemic, as it is not seen as a necessity compared to other sectors of the economy.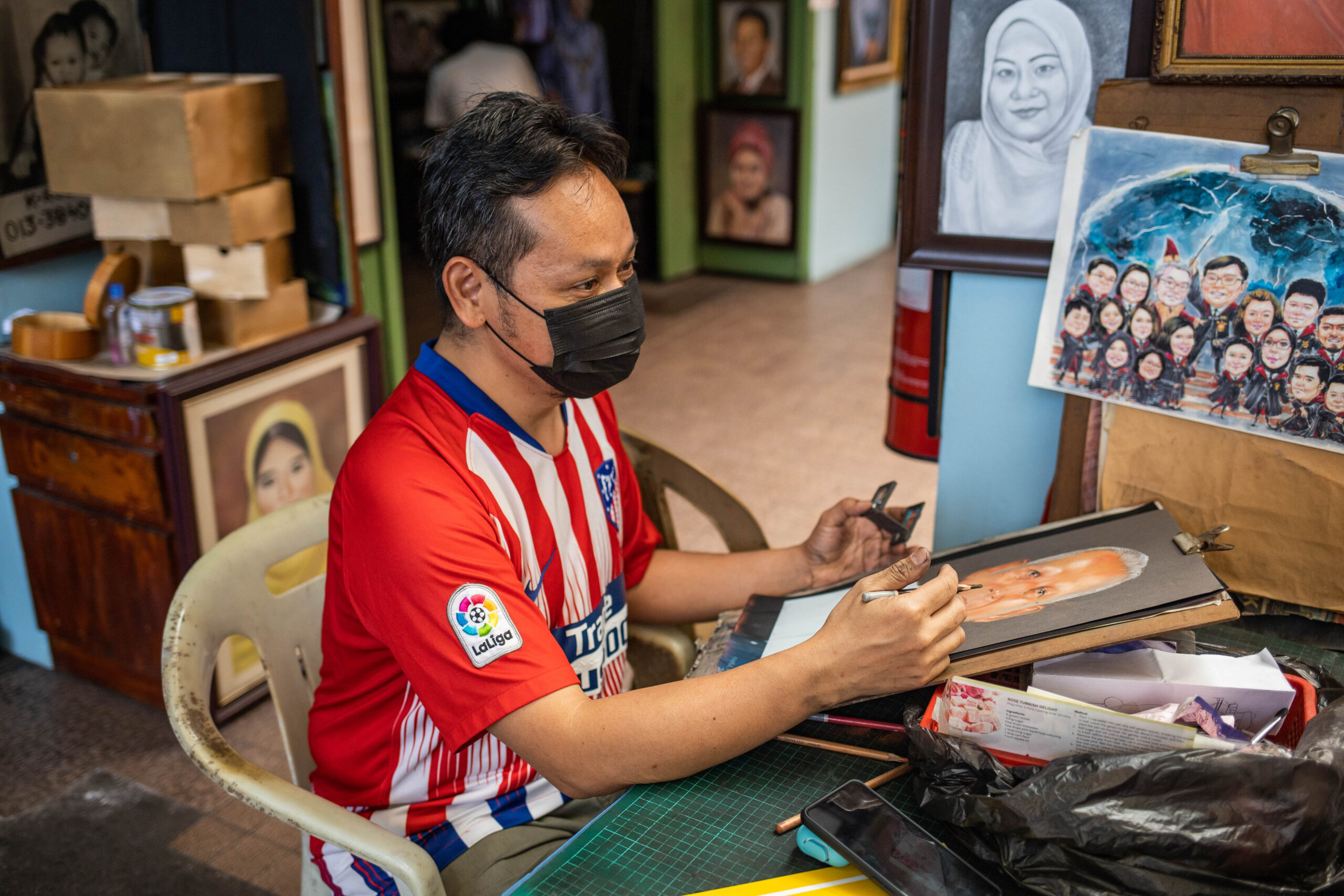 Not all has been hopeless during this time, however. Their business has found warm reception from friends and local artist circles, who have stuck together during the crisis. The sibling duo have been receiving orders from friends and frequent patrons, where during the first full-scale lockdown they had fulfilled by posting the orders to their customers. Their fellow artists have also turned to social media such as Facebook and Instagram to form local communities and boost each other's works. It is through the sheer resilience and hardwork of the artist community in Central Market that each artist has managed to stay afloat.
But with another lockdown well underway, one can't help wondering how they'll tide themselves over once again.
—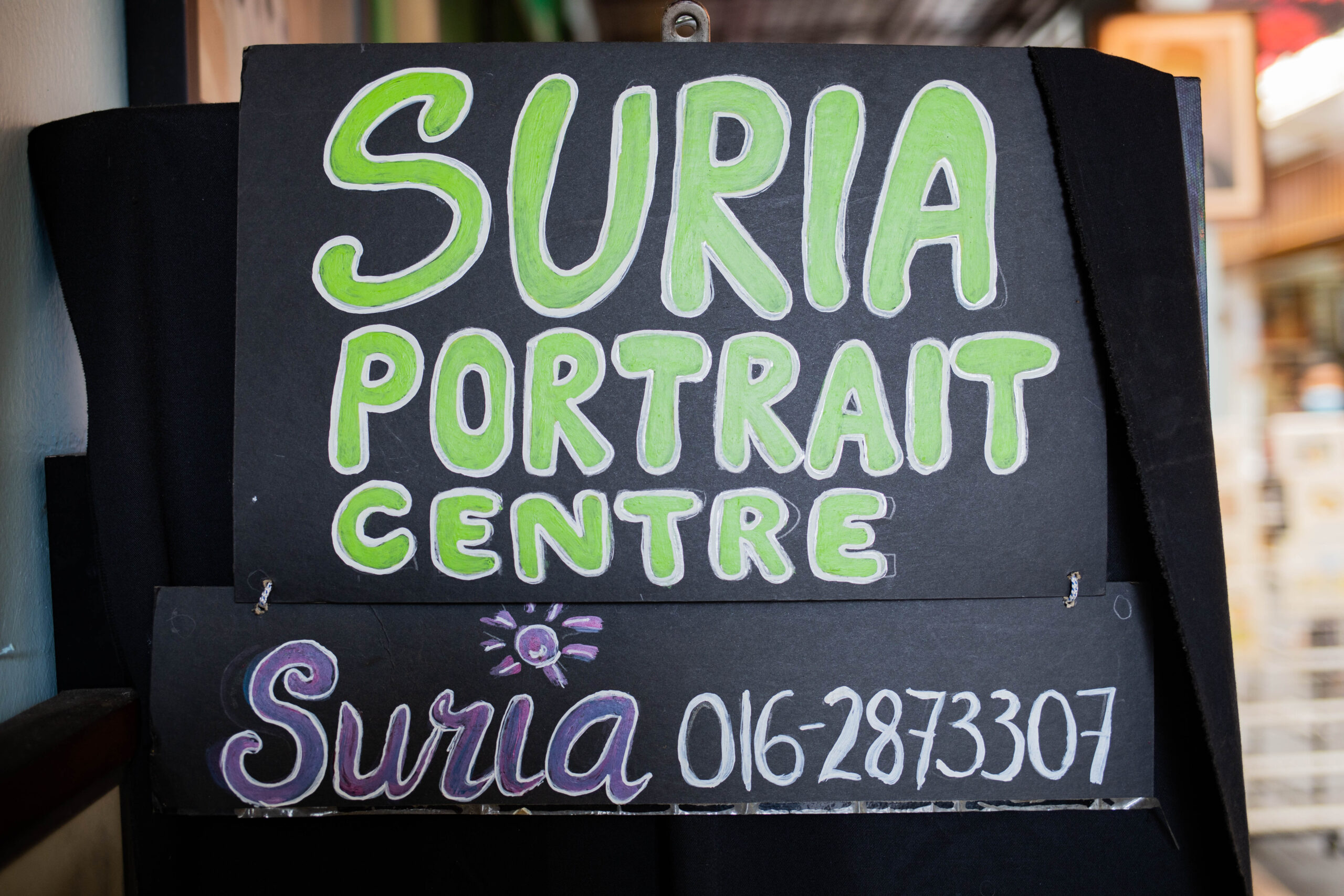 Mohd Hairul and his sister run Suria Portrait Center in Central Market. Their work can be found on Instagram @suriasuim.