In various reports and briefs, REFSA has been advocating for the nation to adopt a mission-oriented approach to tackle the challenges of our current times, be it the current economic crisis, climate change or the recent COVID pandemic.
Created as a short introduction to this concept, here is the first of our Fact Sheet series that seeks to explain what exactly are mission-oriented strategies, why we need them and how they can be managed to achieve the most effective outcomes.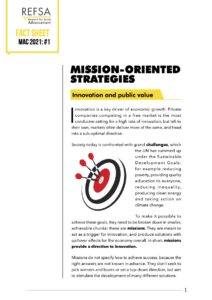 To download PDF version, please click here
About REFSA Fact Sheets
REFSA Fact Sheets are short introductions to specific ideas and concepts that feature in our research. While they aim to explain the concept or idea in layman's terms and situate its importance in context, fact sheets are not meant to be an exhaustive review.
Rather, they provide a starting point for readers to form their own thinking on potential applications and policies relevant to them.