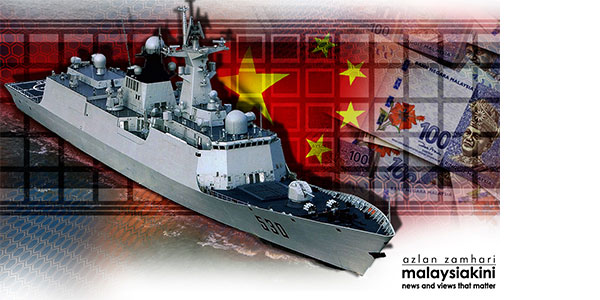 NOV 11, 2016
Of Littoral Mission Ships deal and Najib's visit to China

The salaries of ministers ought to be slashed given the current economic climate, said economist Muhammed Abdul Khalid.
COMMENT China, which was once an ideological rival yet now a strategic partner, is destined to be a complicated neighbour to Malaysia. When China was deemed a backward and poor country many decades ago, it was nothing more than a source of ideological and revolutionary threats. There was no need for Malaysia to pay attention to a China which could barely offer us anything, rather, it anticipated our economic assistance instead.
However, things have changed rapidly. After China embarked on a profound socio-economic reform agenda under the rule of second-generation Chinese 'core leader' Deng Xiaoping, it is now Malaysia which looks to China for offers.
Prime Minister Najib Abdul Razak's recent visit to China indicated a new level to Malaysia's request for offers. During the visit, Najib witnessed 14 commercial Memorandums of Understanding (MOUs) and 9 bilateral governmental cooperation documents signed between Malaysian and Chinese officials. Among others, the Littoral Mission Ships (LMS) deal is the centrepiece.
The first arms importation from Beijing was made in 2009 when Malaysia symbolically bought 16 units of the FN-6 shoulder-fired anti-air missile. Then, in 2014, a Malaysian private company signed an MOU with a Chinese defence firm to acquire Chinese LY-80 medium range air defence missile, but the government of Malaysia did not endorse it.
Although it was not the first defence procurement from China, the LMS deal indicated Malaysia is finally willing to acquire more sophisticated weaponry from communist China.
The origin of LMS
Indeed, the requirement for LMS can be traced back to the New Generation Patrol Vessel (NGPV) project which was started two decades ago. The Royal Malaysian Navy (RMN) had requested 27 vessels which would be able to perform an 'estate manager' role in waters crucial to national interest; the safeguarding of oil and gas fields in the South China Sea, for example.
Originally, the NGPV was one variant of the German Meko class corvette, but modifications were made to suit Malaysia's requirements which were low-cost, mass-produced, with high endurance in high seas and were able to engage in low intensity maritime conflicts, or equipped with less sophisticated weaponry.
To further lower the construction cost, the RMN decided not to install anti-ship missiles, but connecting ports were pre-fitted on board which enabled the Navy to install missiles in a short period in the event of there was a pressing need. The Navy named it as Fitted But Not With concept.
Nevertheless, the NGPV project ended with only six vessels being built, something which was reprimanded by the Auditor-General's Report, in that the project was ill-planned, with weak implementation and a lack of monitoring, which resulted in a bloated construction cost of RM5.35 billion to RM6.75 billion in 2006.
Eventually, the Navy abandoned the whole project but kicked off another new project, ie the Second Generation Patrol Vessel which also consisted of six vessels, but with full-fledged multi-dimension combat capabilities. Later, the project was renamed to Littoral Combat Ship with the ceiling construction cost of RM9 billion or RM1.5 billion per vessel.
In fact, the Littoral Combat Ship is a frigate-type combat ship which is bigger even than Malaysia's biggest frigate in service currently, ie the Lekiu class frigate. With such high unit cost, the Littoral Combat Ship project does not solve the RMN's requirement of mass production of patrol vessel to meet its original target of 27 vessels.
Then the Littoral Mission Ship concept was introduced and the Navy indicated an acquisition of 18 ships were to be made. The LMS is an extension of the NGPV project was supposedly to have the same characteristics of low cost and ability for mass production.
The defence minister (at the time) Hishammuddin Hussein, finally revealed the unit cost was around RM250 million, which was not far from what I told Reuters recently. The unit cost is far cheaper than NGPV unit cost at RM1.13 billion and the cost of one LCS, and this means the LMS will not feature many state-of-the-art systems and will be smaller in size.
There are plenty international suppliers who are able to fulfil Malaysia's need for the LMS, so why were the Chinese chosen?
Political interference in arms deal
People may think that being the end user of arms, the Armed Forces should have the final authoritative say in any arms acquisition effort. In practice, however, it is the prime minister and defence minister, who are politicians, who have the final say. And, normally, their decisions were purely politically-driven rather than technical based.
A very good example of this political interference was the acquisition of the MIG-29N/NUBs programme, which witnessed the shift of arms acquiring policy from western-based, to the Russians. Then-prime minister Dr Mahathir Mohamad did say that reducing reliance on western technology was the main consideration of the deal.
The shift of policy, however, created a logistical nightmare to the Air Force, which could not maintain the combat readiness of the MIG fleet to be at least on par with the western-made combat aircraft fleet.
The low quality of spares which were at least 50 percent more expensive than market price had crippled the maintenance effort of the MIGs. To prevent being continuously haunted by this politically-driven arms acquisition programme, the Air Force finally ordered the decommissioning of MIGs in 2015, even though the MIGs had not ended their life span.
The acquisition of the Scorpene submarine is another classic case which demonstrated how commissions, C4 and political preference dictated an arms sale. Therefore, it will be too naïve to ignore political considerations in an arms deal, particularly this time involving Malaysia's past ideological enemy and contemporary rivalry in South China Sea territorial dispute.