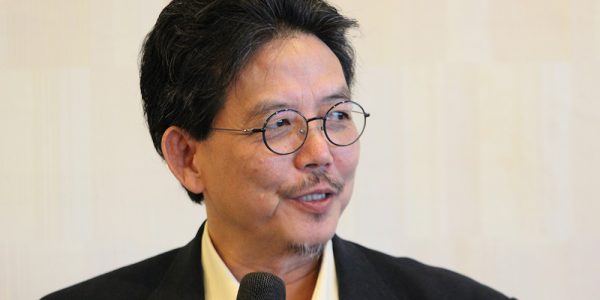 AUG 8 2020
'Make way for youths to lead because change comes from them'
by Geraldine Tong

History shows that change has always come from the young so the older generation should make way for them to lead, said Penang Institute executive director Ooi Kee Beng.
"Change is probably generational […] if you look back historically, change always came from the younger generation so I think we should give way to the young and let them make their mistakes," Ooi said during the launch of DAP Political Education Bureau director Liew Chin Tong's new book The Great Reset – 100 Days of Malaysia's Triple Crisis today.
Though the launch was a private event, it was streamed live on Facebook. The other panellists for the discussion following the launch were DAP media adviser Wan Hamidi Hamid and Research for Social Advancement (Refsa) economic adviser Frederik Paulus.
Ooi (above) said the older generation may talk about reforms but when it came down to it, they would usually take the route they were most comfortable with.
"You cannot expect too much from the old. They may say the right things about reforms and all that, but when push comes to shove, they take the route they are comfortable with. They lack idealism.
"Only the young are silly enough to be idealistic and that's how the world changes. We should not forget that," he said.
Ooi's remarks came against a backdrop of a growing movement online with the hashtag #MasaKita for Malaysian youths to rise up and make their mark in politics.
This after former prime minister Dr Mahathir Mohamad announced yesterday the formation of an "independent" Malay party (above) which would uphold Bersatu's original anti-corruption struggle.
Present at Mahathir's press conference were former Bersatu secretary-general Marzuki Yahya, Simpang Renggam MP Maszlee Malik, Kubang Pasu MP Amiruddin Hamzah and Sri Gading MP Shahruddin Md Salleh.
Muar MP Syed Saddiq Syed Abdul Rahman, a Mahathir loyalist, was not present and was said to be in Johor to mark the occasion of his mother's retirement.
Soon after Mahathir announced the formation of this new party, Malaysian youths took to social media to express their dissatisfaction at its lack of youth representation.
"Coming from a B40 family, I don't think my family has ever benefitted from an all-Malay party. With all due respect Tun, it's time for the new wave to roll in guided by the old. Ini #MasaKita," said Twitter user Amira Aisya.
Another Twitter user, Eshaan Menon, tweeted: "A party with no policies, no constitution and no young people? No thanks. Ini lah #MasaKita."
Malaysian Youth Advocates for Gender Equality (MyAge) also said that a new party was an "egregious mistake".
"An equal, inclusive and progressive Malaysia is what the youths want […] Make space for #MasaKita," it tweeted.