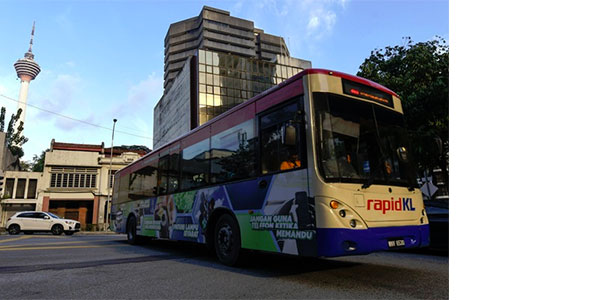 AUG 28, 2019
Improve public train transportation to boost ridership

By Soon Li Wei
 
KUALA LUMPUR, Aug 28 — The element of security and timing are among the aspects which need improvement to make public transport such as train and rail services as the choice of the public especially among Klang Valley residents.
Even though various train and rail services are provided such as train and komuter by Keretapi Tanah Melayu Berhad (KTMB), light rail transit (LRT), monorail, Mass Rapid Transit (MRT) and even the electric train service (ETS), many are still reluctant to use such services despite acknowledging they are satisfied with them.
Research For Social Advancement (REFSA) coordinator Fakhrurrazi Rashid said there are two basic factors influencing passengers in any train and rail transport system.
He said as a public transport user since his school days, he saw services such as the LRT still at acceptable level as before even though there were improvements from time to time.
"Security at the station is still a concern despite the deployment of about 2,000 auxiliary policemen at LRT and MRT stations and due to the frequent absence of such personnel, these premises are still the target of criminals.
"Apart from that, rail operation hours should be extended to about 2 am to accommodate those who are working on night shift to use the train. As an example, the Kelana Jaya – Gombak computerised route has increased the number of trips for the benefit of users," he told Bernama.
He said efforts should also be carried out to overcome technical disruptions as such incidents are quite common.
Prime Minister Tun Dr Mahathir in his working visit to Japan in November last year was reported as saying that Malaysia would be working with JR Kyushu Railway Company to study the problems of train transportation in Malaysia to improve its services.

Dr Mahathir said even though the overall train and rail services in Malaysia is almost complete, its usage has only reached 30 per cent and 70 per cent of the capacity is not utilised.
Universiti Teknologi Mara (UiTM) Civil Engineering Faculty lecturer Dr Siti Nurbaya Ab Karim said an effective public transport especially in the federal capital could help reduce traffic congestion and indirectly create more productive city residents.

She said in the case of komuter, passengers took the train to avoid traffic congestion, parking problem and not having own vehicle.
"Apart from that, the reasonable fare, weather factor and comfort are drawing the people to take the komuter," she said.
However, she said the punctuality and capacity of such trains should be given due attention by KTMB to meet the increasing number of passengers every day.
"The service could be improved by increasing train efficiency in terms of service frequency to reduce journey time, the total weighted travel times, travel cost, waiting time, in-vehicle time, passenger and potential passenger queuing and overcrowding.
"Besides that, decrease a train's stop time at every rail station by improving boarding or alighting time and providing convenience with wider doors or a few doors in addition to increase public transport vehicles, especially rail cars/coaches or set of trains, and ensuring that loading and waiting areas are comfortable," she said.
For Malaysian Institute of Road Safety Research (MIROS) director-general Dr Siti Zaharah Ishak, providing free wifi service in public train and bus as well as at the terminals and stations would encourage more to use public transport and reduce road accidents.
She said apart from that, public transport terminals should provide the concept of transit oriented development (TOD) to boost ridership by facilitating passengers to switch to public transport.
— BERNAMA