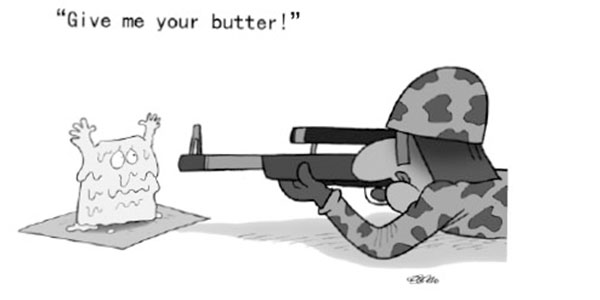 JUL 22 , 2015

Guns Versus Butter
"Guns will make us powerful; butter will only make us fat." Hermann Göring, German military leader, 1936.
You might have heard of the term Guns and Butter[1]. The Guns versus Butter model is used to refer to the relationship between a nation's investment in defence and the military, and in civilian goods. Simply put, it questions whether a nation should use its finite resources to buy guns, or to buy butter. Military spending is a political hot potato not just in Malaysia but around the world. Every year, USD45-60 billion in arms sales are agreed, and 75% of this figure is to developing countries.
Related to this is a country's peace dividend; that is, the economic benefit of a decrease in defence spending. This term was first used after the Cold War, when many Western nations significantly cut their military spending. It refers to a long-term benefit as budgets for defence spending are redirected to social programs or to decrease taxation rates.
So how much is too much? Are we overspending in defence sector? Or, are we getting safer after spending RM 71.8 billion in defence development sector from 1966 to 2013?
The first conventional threat faced by Malaysia was the Confrontation, launched by Indonesia in the early 1960's. Although Indonesian national leaders openly threatened to use force against Malaysia and Singapore, the conflict only ended up consisting of several skirmishes in Sabah, Johor and Singapore.
The second security threat was the Communist Insurgency, a war fought by the Malayan Communist Party against the Malaysian Armed Forces, from 1948 – 1989. But after the peace truce between the Communist Party of Malaya and the Malaysian Government was signed in 1989, Malaysia is formally freed from any particular security threat.
At certain times Singapore has been portrayed as an immediate conventional threat. Longstanding, unresolved issues like water supply, the Pedra Branca sovereignty dispute, and the intrusion of Malaysian Airspace have been the thorns in the side of Malaysian-Singapore diplomatic relations.
Bernama reported that former Foreign Minister Syed Hamid Albar said on 31 December 2002, that "…Singapore has two choices. If it refuses to compromise….(it can) go to war." And in a New Year message, former Prime Minister Mahathir, in a thinly-veiled reference to the Lion City, also implied that Malaysia was threatened by Singapore's forward defense strategy.[2]
But these comments were merely trying to make Singapore into a political scapegoat and to divert dissatisfaction sentiment against UMNO to xenophobic sentiment given the context of Malaysia was still filled with the atmosphere of sympathy with Anwar Ibrahim at the time. Usually, these kind of threatening words do not lead to burgeoning conflict. Indeed, since then Malaysia has not made any references to our southern neighbour posing any immediate threat.
Even though we are not under any immediate conventional threat, the Defence Ministry has identified non-conventional threats like terrorism, religious and racist extremism and border disputes have becoming the country's primary security concerns. The former Defense Minister Ahmad Zahid Hamidi said on 27 July 2009, "In modern warfare, non-traditional security threats will always be the main concern. For Malaysia, the issue is indeed of immediate concern, in spite of the fact that our country does not foresee any possible conventional external threat in the near future, having progressed and prospered with the binding concept of 'Prosper Thy Neighbour'."[3]
But the outbreak of Lahad Datu's standoff proved that Malaysia was not well prepared to face the real threat. The very fact was the Malaysian defence intelligence had detected Sulu Army's activities way back to six years ago but no action was taken to neutralize the situation. The given reasons were Sulu Army post no serious threat at the time.[4] This serious failure of intelligence evaluation led to the sacrifice of innocent servicemen and policemen in March 2013.
Since then the authority has spent so much money and has taken many efforts to mitigate the bad situation. Meanwhile, the government is pumping more money into ESSCOM to tighten the security loopholes, i.e. RM 660 million is allocated for ESSCOM, while RM 17.7 billion for defence in 2015.
Despite these efforts being taken, security in Eastern Sabah area is still under tense situation and a sea curfew is imposed along the east coast to prevent Sulu Army and kidnap groups' intrusion. Indeed, Rakyats, especially Sabahans still don't feel safer either.
The failures and incompetency showed by the government displays that to answer the aforesaid questions is better to answer this question first: who is our enemy? What is the national threat perception?
Indeed, the authority had failed to do so in 2013, otherwise early counter actions would have been taken to prevent the Sulu Army's threat from escalating. If the enemy has been known, then relevant resources such as fund and assets can be invested in the right place. Further, the threat analysis needs to be reexamined to ensure it is up to date and credible.
Only then can we answer how much should we spend in defence without jeopardizing investment in social-economy sector.
[1] It was the title of an episode in Season 4 of The West Wing.
[2] Singapore's Foreign Affairs official portal, "Statement by Minister for Foreign Affairs, Prof S Jayakumar, in Parliament, 25th Jan 2003," http://www.mfa.gov.sg/internet/press/water/speech.html#main
[3] Keynote address by Ahmad Zahid Hamidi, Defence Minister of Malaysia, in conjunction with the launching of books on terrorism, 27th July 2009.
[4] Lam Choong Wah, Lahad Datu Stand off: Najib should bear the responsibility, 1 March 2013; https://www.facebook.com/photo.php?fbid=10200111070513165&set=a.1375839389669.53959.1042379039&type=1