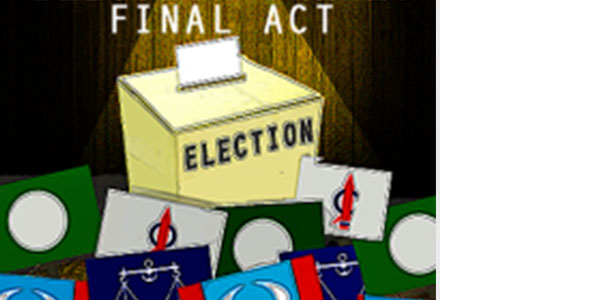 APR 27,  2013
Crisps of the Week 19-25 Apr
by Sandra Rajoo

REFSA Rojak is our weekly take on the goings-on in Malaysia. We trawl the newsflow, cut to the core and focus on the really pertinent. Full of flavour, lots of crunch, this is the concise snapshot to help Malaysians keep abreast of the issues of the day.
Election drama and political intrigue
An election is not an election if there is no drama. Some theatrics are incidental, some are staged. What happened to DAP recently could be either. The party got a heart-stopping jolt when it received a letter from the Registrar of Societies (ROS) declaring illegitimate its central executive committee (CEC) elected on Dec 15 last year, thus rendering invalid any signature by its office bearers. This meant DAP leaders would be unable to sign letters sanctioning the use of its Rocket symbol.
The ROS is certainly within its rights to initiate investigation into the validity of the CEC, following official complaints filed against the party. But, it certainly took its time to conduct an enquiry, and, sending the said letter just days before nomination day on April 20, points to something sinister developing behind the scenes. Even though ROS claimed it had no insidious intent, logic tells us that acting this way so late in the day is nothing short of suspicious.
DAP is also not entirely irreproachable in this matter. Computer glitch notwithstanding, its carelessness at the handling of the CEC election had left it vulnerable and open to exploitation and sabotage.
But all's well that ends well, and DAP managed to survive a bad patch. Its party flags and banners are now hoisted and flying high. How will this drama conclude? Will it be a case of rough beginning, happy ending for the DAP?
Who comes off better?
Theatrics have also invaded advertising space in mainstream newspapers. Advertisements bombarding the DAP are ubiquitous in MCA-owned The Star. The ads run down the DAP without any solid evidence to back the claims. In fact there is accusation of fear mongering, with the assertions of "civil war in the streets, chaos in the country, political instability, economic turmoil" (The Star, 21 Apr, 2013) to shore up support for the MCA. Such words, even when delivered within the confines of a political 'ceramah', sound absurd and ominous.
Done with the intention of whipping up Chinese support for MCA, the advertisements, however, could have achieved an effect that is the exact opposite. Considering that MCA is trying to redeem itself in the eyes of the public, especially the Chinese, what it got from its ads was open criticism and disapproval. theSun columnist Nadeswaran reminds everyone of the Malaysian Code of Advertising, the preamble of which states that "All advertisements should be legal, decent, honest and truthful".
MCA has shot itself in the foot and conceded points to the very party it hopes to bring down. It practically sabotaged itself. But, it cannot see the error of its ways. It is super confident that it has captured the imagination of the people with its 'creative' ads, and has lulled itself into a false sense of security, believing that, in the words of MCA Selangor deputy chairman Datuk Teh Kim Poo, "the political tsunami of 2008 will not recur."
MCA's drug-like obsession with its opponent is nothing new. Like a junkie, it keeps injecting the DAP drug into its bloodstream for that 'high', and while everyone can see the drug is fatal, MCA is lost in its addiction. The 'kick' it is giving itself now may well be a foreboding prelude to its demise.
Party unity: illusion or reality?
Every political party claims to be united and goes all out to downplay any signs of infighting within the party. But this claim of unity is falling apart, as seen by the many politicians jumping ship to stand as Independents this election, simply because they were not fielded by their bosses.
BN is the hardest hit, with 61 members becoming turncoats. Naturally, they have been sacked. The biggest shock must have come from Wanita Umno deputy chief Kamilia Ibrahim, who quit to contest the Kuala Kangsar parliamentary seat as an Independent, after being sidelined by party leaders.
The Pakatan parties are similarly afflicted, though their numbers are smaller. The case of DAP fielding incumbent MP Sim Tong Him as candidate for the Kota Melaka parliamentary seat only to discover that he is contesting as an Independent in Kota Laksamana caused a lot of red faces. Sim relented only after getting an ultimatum from party leaders and has since bowed out as an Independent candidate.
With as many as 270 Independents this time round, this election is going to witness battles ranging from straight fights to seven-cornered fights. In a crowded battleground, it would be difficult to tell who is trying to 'knife' whom. For many, this election is a means to an end and under the circumstances, a friend can easily turn foe, and vice versa, anytime.