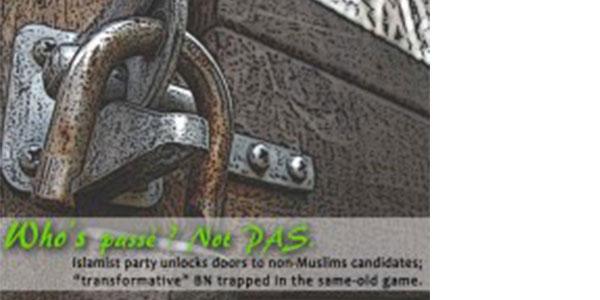 APR 19,  2013
Crisps of the Week 12-18 Apr
by Foong Li Mei

REFSA Rojak is our weekly take on the goings-on in Malaysia. We trawl the newsflow, cut to the core and focus on the really pertinent. Full of flavour, lots of crunch, this is the concise snapshot to help Malaysians keep abreast of the issues of the day.
PAS' unprecedented move vs BN's business-as-usual
With such a tight race this general election, politicians eager to stay ahead have to show that they can sprint with the times. PAS proves that it is certainly not passé – the Islamist party has named its first ever non-Muslim candidate for a parliamentary seat, Malaysian-Chinese Christian Hu Pang Chow for the Ayer Hitam constituency. In addition, Richard Wong will be contesting the Asahan state seat in Malacca for PAS.
While all the component parties within the Pakatan Rakyat coalition catch the winds of change by hoisting multi-cultural sails, the BN war vessel remains firmly anchored in racist politics. This is evident in its selection of extremist politicians in its slate of "winnable candidates".
Perhaps the most unsettling example is Perkasa vice-president Datuk Zulkifli Noordin, who will be contesting in Shah Alam under the BN banner. Barely a month ago, this gentleman had insulted the Hindu community, and labeled Indian Malaysians by the pejorative term, "keling". Perkasa is infamous too for similar incendiary invective, such as its "burn-Malay-bibles" tirade. When uncompromising characters like Zulkifli are touted as "transformation candidates", what can we conclude about Dato' Sri Najib Razak's mission to "transform" the economy, politics and government?
Equally eyebrow-raising are BN candidates who declare that UMNO does not need non-Malay support, such as Datuk Seri Ali Rustam (Bukit Katil) and Datuk Johari Abdul Ghani (Titiwangsa). (Caretaker) deputy Prime Minister Tan Sri Muhyiddin Yassin had also openly contradicted BN's 1Malaysia slogan by professing himself to be "Malay first, Malaysian second". By the way, Muhyiddin was seen hijacking an Education Ministry event for teachers to campaign for votes.
What does BN's endorsement for the incendiary Perkasa and narrow-minded candidates say about its sincerity to serve the best interests of all Malaysians? Why are these provocative politicians considered 'winnable' by BN?
It has been suggested that Najib's actions belie his words, and he really prefers not to rock the boat. Political science professor Dr Bridget Welsh observed that Najib's "idea of 'winnability' appears to be to stick with the status quo".This business-as-usual attitude may explain why Najib's number of new candidates is at a record low. Contrary to the perception manipulation propagated by the mainstream media, a mere 30% of the BN candidates fielded for Parliamentary seats are fresh faces. Contrast this to then Prime Minister Abdullah Badawi: he fielded 71% new faces when leading the BN into general elections for the first time in 2004 and 55% in his 2nd elections in 2008.
In fact, only 6 out of BN's 222 federal candidates are under the age of 35. Can a coalition choked with old blood learn the new, transformative agenda that its leader Najib trumpets? Oops. We forgot. The execution of transformation is entrusted to the likes of Zulkifli Nordin.
BN candidates 'certified' by diploma mills
Two deputy 'caretaker' ministers and several BN candidates hold fake university degrees, charges DAP election strategist Dr Ong Kian Ming. Caretaker deputy foreign affairs minister A Kohillan Pillay and his colleague Datuk Richard Riot Jaem had allegedly listed academic credentials from Western Pacific University and Preston University respectively, which The Star had identified as dubious institutions. Also accused of touting phony qualifications are BN hopefuls Nicole Wong (Seputeh), Teh Kim Pooh (Klang), AB Wahab Ibrahim (Taman Medan), Ching Eu Boon (Pandamaran) and Lee Ban Seng (Kajang).
Do paper qualifications reflect integrity? The truly intelligent will know that certificates mean nothing if integrity is lacking.
Rising to the challenge
Not only do BN's aged powers-that-be remain largely unchallenged, but the coalition's fine old tradition of silencing opposing voices continues unabated. School teachers are warned not to make anti-government statements on social media, or risk disciplinary action. Malaysiakini reported that the teachers were also "indirectly told not to vote against the (BN) government."
Meanwhile, Kuala Lumpur City Hall (DBKL) failed in its attempt to uproot the Malaysian Spring movement by Bangsar folks. Volunteers led by landscape architect Ng Seksan together with PKR Lembah Pantai candidate Nurul Izzah Anwar, had planted multicoloured 'flowers' (mini-flags), only to have them dismantled by DBKL. After a vehement protest, the officers finally relented and allowed the citizens to 'replant' the flags.
Nurul Izzah also fears for her party volunteers as they face threats of political violence daily. She claimed that one PR worker was threatened with a parang in an UMNO stronghold, while another PKR worker was slashed by people he identifies as "UMNO supporters". Two men trying to stop 1Malaysia flags from being put on the front gates of their private residences were also assaulted, with one so badly beaten that he went into a coma.
Monetary props – where from
A very generous person has given journalists and welfare groups RM 2 million. Obscure pro-BN 1Malaysia-Penang Welfare Club has filled the pockets of three journalists' organisations and 103 NGOs, but little is known about the source of its funds.
The club is also organising a gigantic-scale charity concert, which boasts a line-up of local and international pop stars, among whom are Busta Rhymes, Ludacris, Alan Tham, Ning Baizura and Suchitra. Malaysians apparently need to donate only RM1 for admission.
The club president said that millionaire Low Taek Jho helped bring in the US artistes to perform for free, while the other costs are borne by their "corporate sponsors". He denied receiving any funding from BN or the government.
Something smells fishy – the club had vaguely claimed that "the needy" will benefit from the charity concert. Who are these "needy" groups? The term is general enough to include a struggling orphanage or a political party whose campaign funds have run dry. Malaysians must ask who the beneficiaries of this 'noble' cause are.
Our hearts with Boston
In the midst of our election preoccupations, let us spare a moment for the victims of the Boston Marathon bombing. May the guilty be brought to justice, and may the deceased rest in peace.