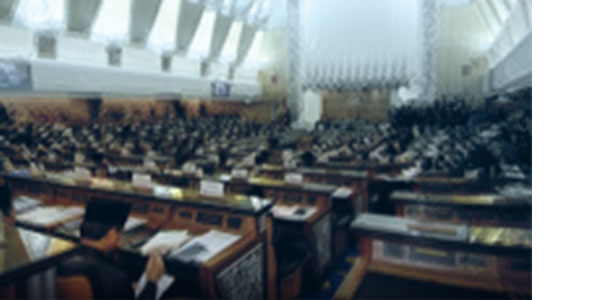 MAY 17,  2013
Crisps of the Week 10-16 May
by Sandra Rajoo

REFSA Rojak is our weekly take on the goings-on in Malaysia. We trawl the newsflow, cut to the core and focus on the really pertinent. Full of flavour, lots of crunch, this is the concise snapshot to help Malaysians keep abreast of the issues of the day.
Dressing up the Cabinet
24 ministries, 30 ministers and 27 deputies – that's the make-up of our new cabinet. Sabah and Sarawak are better represented this time with 13 ministers in the line-up, and a token handful of MIC members adds some zest, but the changes are cosmetic and there's nothing really nothing transformative in Dato' Sri Najib's new Cabinet.
Unfortunately for the nation, the PM saw fit not to include some of the more sensible people in UMNO – Saifuddin Abdullah being one of them; another is Ghani Othman who drew the short straw of having to face off with DAP strongman Lim Kit Siang.
Two new non-political faces are former Maybank CEO Datuk Seri Wahid Omar and Transparency International's Datuk Paul Low. It will be interesting to see how Low is going to tackle the prevalent graft culture in the federal government. We trust he won't be a one-man army.
The cynical will not be surprised by the appointment of former Hindraf leader Waythamoorthy as a deputy minister in the prime minister's department. MIC Youth is none too happy over his inclusion, feeling somewhat betrayed for not being consulted. Waythamoorthy's brother and Hindraf leader Uthayakumar called him a "political opportunist" and heralded him as the "new Samy Velu".
MCA and Gerakan have disappeared into the horizon, which wasn't unexpected. MCA had earlier resolved to keep out of government positions if it did not win sufficient support. For the 'respect' shown for MCA's position, Najib received a big 'thank you' from president Chua Soi Lek. Will MCA party elections to be held soon to reverse that stance?
Kluang MP Liew Chin Tong says the cabinet line-up is a sign that "there is no attention to reform" while PAS' Dr Dzulkefly Ahmad astutely commented that the new cabinet is "Mahathir's Cabinet". Could Najib be playing it safe rather than transformative, and making his position as UMNO chief more secure? Perhaps now he need not worry that he will be as unceremoniously unseated as his predecessor, Abdullah Badawi.
Wahid Omar: BN's gain is also NUBE's gain
The National Union for Bank Employees (NUBE) must be smiling to see the last of Maybank CEO Wahid Omar. Maybank under Wahid had decided to form an "in-house union" for its employees in 2011, hence jeopardising NUBE's good relations with the bank. To add insult to injury, former Human Resource (HR) minister Dr. S Subramaniam whom NUBE accused of working in cahoots with Maybank, had "refused to cancel the registration despite appeals from the Malayan Trades Union Congress (MTUC)". NUBE alleged that Subramaniam had "blatantly lied to the International Labour Organisation (ILO)" and "misled" Parliament on this issue last year. To say that the union is glad Subramaniam's not reappointed is an understatement.
With Wahid gone and a new HR minister in Richard Riot, NUBE General Secretary J. Solomon sees the dark clouds being lifted. He hopes Riot will "rectify the wrongdoings of Subramaniam and the ministry officials". He also wants the Industrial Relations Department to be more proactive and hands-on in handling disputes.
New Home Minister shows ignorance of home truths
No sooner had Ahmad Zahid Hamidi been appointed Home Minister, than he said that those not happy with the electoral system can "migrate elsewhere". Impressive, no? His comments appeared in an Utusan Malaysia – where else? – editorial.
This salvo is aimed at the hundreds of thousands of people who participated in the "Black 505" gatherings held in Selangor, Perak, Penang, Johor and other states. Hamidi's words only serve to remind us that BN is still stuck in reverse gear, new cabinet or no. If Hamidi does get his way more than half of all Malaysians will leave – because only 47% of us voted for the BN!
Pakatan's next course of action is to seek legal redress over the election fraud that had robbed it of its right to govern the country – as the coalition that had won the majority of the popular vote. Malaysians are waiting to see what will be unearthed and exposed in court by PR and other concerned parties. We wait for the day when "Truth will rise above falsehood as oil above water" (Miguel de Cervantes).