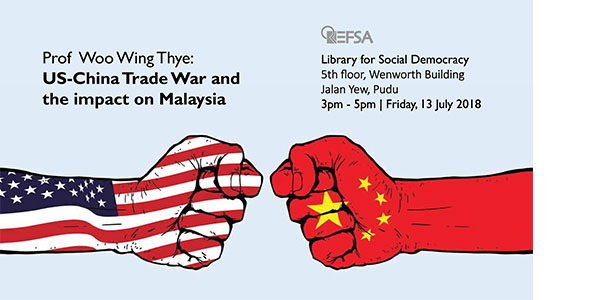 US-China Trade War and its impact on Malaysia

Date: 13th July 2018
Time: 3pm – 5pm
Venue: Library for Social Democracy
Speaker: Professor Woo Wing Thye
Background
Against the backdrop of United States-China trade conflict, how should Malaysia position herself strategically in the international arena? Professor Woo will first unravel the complex motivations that underlie the American and Chinese tit-for-tat exchanges. He will examine Malaysia's opportunities, vulnerabilities and exposure to the escalating skirmishes between two of Malaysia's most important trade partners. Given Malaysia's trade opennes, how can she safeguard her interests and pare down her vulnerability? How should Malaysia actively intervene to manage US-China trade tensions?
About the speaker
Woo Wing Thye is a Penang-born, Harvard-trained economics Professor at University of California at Davis, at Sunway University in Kuala Lumpur and at Fudan University in Shanghai. His current research focuses on macroeconomic management of open economies, and on the growth challenges of the East Asian economies. His upcoming publication, which will be published at MIT press, is titled 'A New Global Reserve System for a Transformed Global Economy, and the Design of the East Asian Component'.
http://faculty.econ.ucdavis.edu/faculty/woo/woo.html
About REFSA
REFSA as a progressive, not-for-profit research institute providing relevant and reliable analysis on social, economic and political issues is proud to organise a special lecture to address the issue of Malaysian economic growth.
For more details
https://www.facebook.com/events/354520691745714/