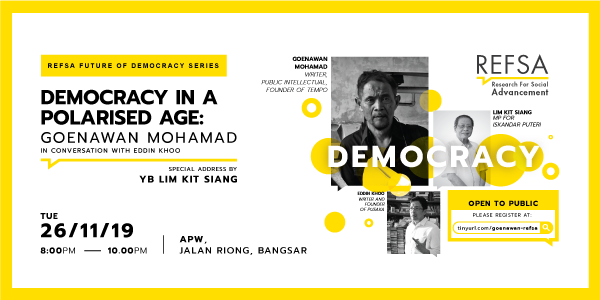 REFSA Future of Democracy Series
Democracy in a Polarised Age
Goenawan Mohamad in conversation with Eddin Khoo
Special address by YB Lim Kit Siang
Date: 26th Nov 2019 
Time: 8:00 pm – 10:00 pm
Venue: APW, Jalan Riong, Bangsar
Abstract 
"Today, democracy is increasingly like a half-remembered love letter. It begins with fresh passion, anticipating a warm and honest conversation – and then time wears it away. As an expression, words, and performance, democracy has lost the thrill. And yet it retains its resilient, albeit confused, hope of rebound." — Goenawan Mohamad, August 2018.
Goenawan Mohamad is one of Indonesia's most influential intellectuals – a poet, writer and editor. As an ardent champion of Indonesia's liberalisation under the New Order, Goenawan and his literary peers have suffered the brunt of authoritarian repression, publishing and writing under great duress. However, the freedom of speech that was so cherished by a pioneer generation of democratic activists has today energised fringe segments of society, polarising societies and endangered the prospects of the nascent democracies in Southeast Asia. How should we re-energise democracy in this part of the world? How do we restore societal faith in democracy? And how do we ensure that our representative institutions play their role as key mediators and conciliators of conflicts in our society?
According to Goenawan, democracy is a perpetually "unfinished project of freedom and justice". This event furthers the project by opening up the debate on what freedom, justice and democracy means to a new generation of young democrats living in a vastly different epoch. It is an attempt to renew the terms of democracy, making it continually relevant to our times.