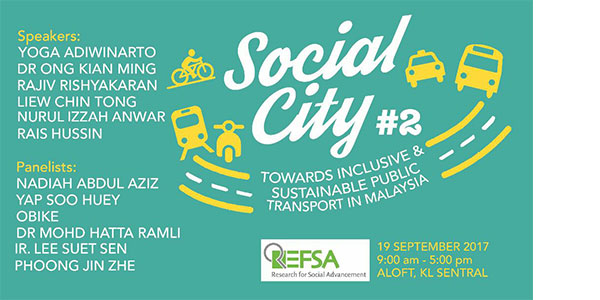 Social City 2: Towards inclusive and sustainable public transport in Malaysia

Date: 19th September 2017
Time: 9am – 5pm
Venue: Aloft Kuala Lumpur Sentral
Speaker: Multiple
About the event
This event is the second installment of the Social City series, which emphasizes urban regeneration in an integrative, inclusive and social way. It is proudly hosted by REFSA together with Friedrich Ebert Foundation (FES). It is about mobility being an essential aspect of neighborhood development and indispensable for participation in public life. Mobility policies that are inclusive can enable people from different backgrounds access to work and thus improve the individual's economic opportunities.
But what exactly does it mean by an inclusive and sustainable public transportation system in Malaysia? Our conference examines how urban planning can be decentralised and sustainable financing models can be explored to make public transport more friendly for bus users, cyclists, and pedestrians in urban and semi-urban areas.
Topics
Panel Discussion 1: Bus to the Future
This session focuses on improving the bus system for urban and semi-urban areas. Buses are an integral part of public transport and travel, and key elements in a sustainable transport system. They ensure inclusive sustainable mobility for all citizens and visitors – in the countryside and urban areas alike – through public transport services customized to mobility needs of the travelling public.

Panel Discussion 2: First Mile, Last Thought
First and last mile experiences of the commuter can play an influencing role in travel choice. Strategic Imperative 5 of the The National Land Public Transport Master Plan 2013 reads: Reduce Congestion, Pollution, and Increase Incidence of Cycling and Walking at the First/Last Mile. Yet, there remain unsafe, uncomfortable last mile conditions which compel commuters to use private modes for last mile connectivity, generating massive parking demand at train stations.The panel will discuss how to improve this.

Panel discussion 3: Planning for the Future: Decentralisation and Financing
A model shift will allow local councils and states more autonomy to take charge of transport planning instead of being restricted by federal regulations which may be cumbersome and ineffective. What financial models can be applied to reduce the cost burden of large scale infrastructure projects on the end user?
Panel discussion 4: Towards Inclusive and Sustainable Future Planning – Public Transport Is Our Business
Transport infrastructure is a critical factor in a city or nation's economic competitiveness. We must shift the paradigm from focusing on solving traffic congestion and parking issues, to making urban public transportation more inclusive and sustainable.
For more details
https://www.facebook.com/events/115563325785840/