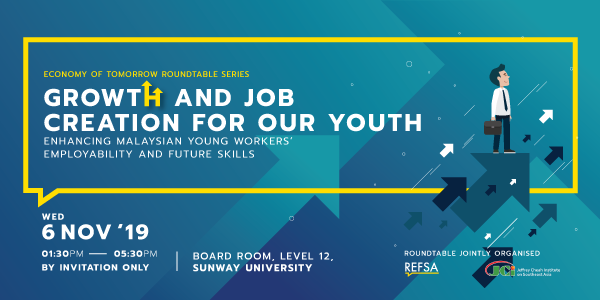 Economy of Tomorrow Roundtable Series:
Growth and Job Creation for our youth
Growth and Job Creation for Youth – Enhancing Malaysian Young Workers' Employability and Future Skills
Date: 6th Nov 2019 
Time: 1:00 pm – 5:30 pm
Venue: Board room, Level 12, Sunway University 
Aims
Discuss and deliberate the employment (unemployment) issues facing the Malaysian youths.

Highlight the high social and economic cost of the persistence of youth unemployment and underemployment in the country.

Discuss the role of the policies in internalizing the issues in private sector behaviour in creating secure and decent work for our youth.

Enhancing public and private sector cooperation amongst various stakeholders in youth employment policies.
Abstract
Recent labour market developments indicate the vulnerability of our youth (15-24 years) in securing and retaining good quality jobs in the economy. Although youth represent only 19 percent of our population, they make up almost 56.4% of all unemployed persons in Malaysia. In fact, the persistence of youth unemployment is also becoming an important issue in the labour market. This will have a larger social and economic ramifications as investment in younger workforce will translate to stronger economic fundamentals that will drive medium to long-term growth of the Malaysian economy. Prolonged unemployment reduces the long-term employability of youth, reduce their earning capacity, and also exert a heavy psychological toll on the unemployed individual.
This half-day event brings together policymakers, academics, youth representatives and other key stakeholders in order to discuss the issues related to youth employment (unemployment) in Malaysian economy. It highlights the role of the state in creating secure employment, improve job security and social protection for youth, as well as restructuring our industries towards more productive, knowledge-intensive sectors.